Written by Maria Yager
Blanchfield Army Community Hospital Public Affairs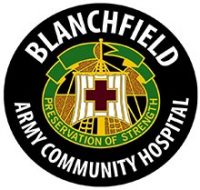 Fort Campbell, KY – Team members past and present gathered at Blanchfield Army Community Hospital January 31st, to celebrate the 118th anniversary of the Army Nurse Corps.
Nurses have served with the Army since 1775, but on February 2nd, 1901, congress formally established the Army Nurse Corps.
Blanchfield's former Deputy Commander for Nursing, Retired Col. Julie Lomax, served as guest speaker and shared the relevance of this year's Army Nurse Corps birthday theme: Anywhere, Anytime, Always Ready.
"This theme emphasizes the number one priority, ensuring readiness for our nursing teams to provide care whenever or wherever it is needed," said Lomax.
Army Nurse Corps officers serve in a variety of environments from military treatment facilities like Blanchfield to expeditionary units like field hospitals, forward surgical teams, and aeromedical evacuation units. In addition to patient care, Army Nurse Corps officers have opportunities to teach, recruit, serve as healthcare administrators and work in research.
"The Army Nurse Corps birthday provides us the opportunity to contemplate where we've been and where we're going. In each of our locations this is the time to reflect both our past and our present on how anytime, anywhere always ready applies to us now and into the future," said Lomax.
Today, more than 11,000 men and women fill the ranks of the Army Nurse Corps in a number of areas of concentration including critical care nurse, emergency room nurse, medical-surgical nurse, obstetrics-gynecology nurse, perioperative nurse, public health nurse, nurse anesthetists, and family nurse practitioners.
Nurses at Blanchfield help to enable medical readiness of the Soldiers of the 101st Airborne Division and help to treat service members, retirees and family members who receive care on post.
Blanchfield nurses concluded the birthday celebration with a traditional cake cutting by the youngest and most experienced nurses.
Event coordinator, Lt. Col Denise Yarde, the hospital's chief of ambulatory nursing, explained that a saber is used to cut the cake as a reminder that the Army Nurse Corps is a band of warriors, committed to carrying the sword, so our nation may live in peace.
"The first piece of cake is presented to the guest speaker. The second piece is presented to the eldest Army nurse present, signifying the honor and respect accorded to experience and seniority. Symbolically, the eldest Army nurse passes a piece of cake to the youngest nurse representing how our experienced senior Army nurses nurture and lead young nurses who will fill our ranks and renew our corps," said Yarde.
The hospital is named for Army Nurse Corps officer, Col. Florence Blanchfield, who played a prominent role in World War II by placing nursing teams close to the front lines to provide expert nursing care to battlefield casualties and was instrumental in attaining permanent commissioned officer status for military nurses. Blanchfield served as the Chief of the Army Nurse Corps from 1943 to 1947.
To learn more about nursing opportunities at Blanchfield visit www.usajobs.gov or www.goarmy.com
Sections
News
Topics
101st Airborne Division, Army Nurse Corps, Bach, Blanchfield Army Community Hospital, Denise Yarde, Fort Campbell KY, Julie Lomax, Maria Yager