City of Clarksville
Clarksville, TN – For Eddie Combs, who's worked for CDE Lightband for 45 years, trees are a big deal.
Combs has spent the last 11 years as the utility's right-of-way foreman, and a big part of that job is managing how trees interact — or better, how they don't interact — with power lines.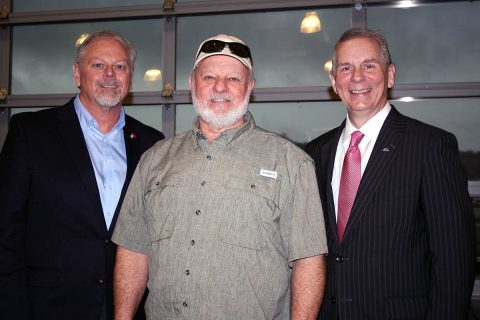 "Yeah, trees and limbs and electrical lines really don't work together," Combs said. "We spend a lot of time trimming and cutting trees to keep them away from power lines. We try to use good practices that make the power system more reliable, keep trees healthy and keep tree owners happy."
Combs' spirit of service has been evident during a long and still-thriving career with the City of Clarksville. As a result, he earned a 45-year pin and a round applause from scores of co-workers Wednesday at the City's annual employee service awards breakfast hosted by Clarksville Mayor Joe Pitts.
The Arbor Day Foundation, which conducts the Tree Line USA program to demonstrate how trees and utilities can co-exist, says Combs and CDE Lightband are doing a good job managing trees around power lines and other infrastructure.
"We've been certified by Tree Line USA for six years in a row," CDE Lightband General Manager Brian Taylor said. "That means we're following industry standards for tree pruning, planting and removals, and that we're training our workers in best practices."
Combs said his work also involves customer service and communicating with Clarksville's property owners about their trees.
"People want to be told in advance if something is going to happen to their trees, so we always try to communicate," Combs said. "And you've got to remember that sometimes it's a tree that's very dear to someone — maybe it was planted to honor a family member, or for some special occasion — so we want to show people we care, even if we have to trim or cut a tree."
Combs, who started with Clarksville Department of Electricity in 1973, was among the longest serving of the more than 200 City employees who received pins marking service in 5-year increments. Several others joined the 40-year club this year — including Clarksville Street Department Director David Shepard.
Mayor Pitts told the crowd gathered at the Wilma Rudolph Events Center for breakfast and pin presentations that he was honored to lead the City's nearly 1,300 employees.
"When you think about it, the City is a large and complex enterprise, and that requires the City's workforce to have a remarkable level of skill, expertise, dedication and even bravery," Mayor Pitts said. "I am humbled to be your leader, and I want to thank each of you for what you do, day in and day out, to serve the wonderful citizens of Clarksville."
Combs, 65, said he was glad to have a long career with the City. He started with the power utility as a meter reader, and has been foreman of a line crew, along with several other assignments.
"I had a friend who was already with the Department of Electricity, and he helped me land the job," Combs said. "It's been a good career, and once I got started, it's been all I wanted. It's been exciting to see Clarksville's growth and improvement, and be a part of it."