APSU Sports Information

Lafayette, LA – Austin Peay State University's Morgan Rackel and Danielle Liermann combined for seven hits and seven RBIs, Saturday at Lamson Park, in Day 2 of the 33rd Annual Louisiana Classic as the Governors defeat Jackson State 12-2 before falling to 13th-ranked Louisiana, 8-0 in the nightcap.
The tournament concludes Sunday, with the Govs facing Jackson State in the consolation game starting at 10:00am.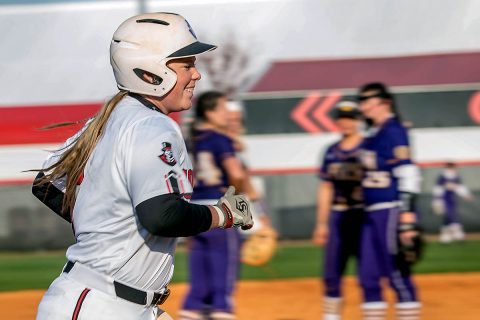 Austin Peay 12, Jackson State 2
The Governors broke open a 2-2 contest in the top of the fifth inning as they sent eight players to the plate, with four picking up hits, but none bigger than Rackel's three-run blast into the scoreboard netting in right field to give APSU a 6-2 advantage.
Rackel's homer came after Liermann's single scored Kacy Acree from second base to give the Govs a, 3-2, lead they would never relinquish.
Rackel would finish the game 4-for-4 at the plate, with four RBIs, while Liermann was 3-for-4 with three RBIs, as the Govs pounded out 16 hits overall.
Austin Peay wasn't done with its hot hitting, as they scored six more runs in the top of the sixth, with Emily Moore driving in two, while Liermann, Carly Mattson, Rackel, and Drew Dudley had one RBI each in the inning.
Kelsey Gross (1-1) picked up the win in relief, pitching 4.1 innings, giving up just one run and striking out three.
The Govs opened the game's scoring with Liermann's first home run of the season in the top of the first inning, a towering drive over the bleachers in left-center field, while their second run came in the top of the fourth inning on an RBI groundout by Dudley.
No. 13 Louisiana 8, Austin Peay 0
It looked like the Govs would put a scare into the Ragin' Cajuns for a second straight day, as Austin Peay only trailed Louisiana 2-0 after three innings, but they couldn't contain the fifth-best hitting team in the country over the final three innings, as they came up six runs on eight hits for the 8-0 final.
Offensively, the Govs were limited to just two base hits – both singles – from Liermann and Gross.
Inside the Boxscore
Morgan Rackel's four hits versus Jackson State is a career single-game high.
Drew Dudley's two hits and two RBIs versus Jackson State were both career single-game highs.
The 16 hits recorded by the Govs versus Jackson State tied a season high.
The six-run sixth inning for the Govs versus Jackson State marks the fourth time in nine games this season where they scored at least six runs in an inning.
APSU Head Coach Kassie Stanfill Statements
On Rackel and Liermann breaking out of their early-season hitting doldrums
"It was good to see Morgan (Rackel) and Danielle (Liermann) have a big day at the plate. They have been working so hard on their hitting this season and have been so close to breaking out and having the type of day they had today. With their continued hard work, we should see many more days like this in the future."