APSU Sports Information

Lafayette, LA – Senior Morgan Rackel recorded her second career no-hitter for Austin Peay State University (APSU), Sunday morning at Lamson Park, in the final day of the 33rd Annual Louisiana Classic as the Govs picked up a 1-0 victory over Jackson State.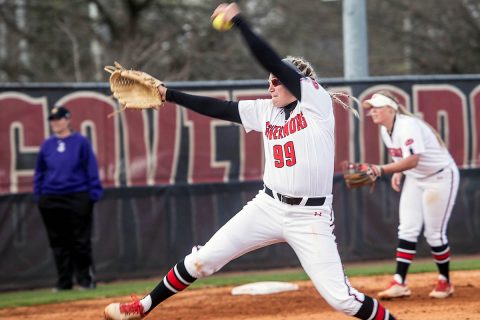 It was the second no hitter in as many seasons for Rackel, with her first no-hitter also coming by way of a 1-0 final versus Eastern Illinois on April 29th, 2018.
Rackel would finish the contest with seven strikeouts and two walks, needing only 85 total pitches in her seven innings of work, with no Jackson State (0-11) hitter getting past first base.
Austin Peay (5-5) would score its run in the bottom of the fifth inning with Drew Dudley receiving a bases-loaded walk to force in pinch runner Kelsey Gray with what turned out to the game winner.
Overall, Austin Peay collected three hits in the victory, singles by Danielle Liermann, Kelsey Gross and Natalie Schilling, but also drew a total of nine walks versus Tigers' pitchers.
Austin Peay is off until next weekend when they return to Louisiana to face McNeese State for a three-game series.
Inside the Boxscore
The no-hitter versus Jackson State was the eighth overall in program history.
Morgan Rackel became just the third pitcher in APSU history to record two no-hitters in their careers, joining Angela Thompson (1992-95) and Stacey Hrabota (1994-96).
The game-winning RBI by Drew Dudley was the first of her career.
Kelsey Gray has scored a run in her last two pinch-running chances.
APSU Head Coach Kassie Stanfill Statements
On closing weekend with a win
"It was nice to finish the weekend with a victory. We had a couple of lineup changes out there today and both played well, with Brooke Pfefferle getting her first start at shortstop today and Katelyn Smith throwing out a runner on a stolen base attempt."
On Rackel's no-hitter
"Morgan (Rackel) threw well today and was really in control throughout. She has really been throwing well for us this season."