Austin Peay State University (APSU)

Clarksville, TN – On a mild November evening, Sidney Brown, 87, stood along the sidelines at Austin Peay State University's Fortera Stadium. He wore a blue blazer, which sagged from all the medals pinned above the left pocket, and a ball cap for the 555th Parachute Infantry, the U.S. Army's famed all-black airborne unit.
Brown, a retired command sergeant major, was waiting to conduct the coin toss for the Austin Peay State University Military Appreciation Football Game.
The stadium's lights brightened the green turf, and if the pleasant air caused his thoughts to drift, Brown might have recalled a few scenes from his life of service.
Little Rock
In 1957, when Brown was a young sergeant, he camped at an airfield outside Little Rock, Arkansas. President Eisenhower had ordered the 101st Airborne Division to that city to enforce the desegregation of Little Rock High School. Brown, along with the other black soldiers, was part of a reserve force.
In an interview with the Fort Campbell Courier, Brown "said many of the black 101st Airborne Division soldiers resented not being able to go into the school," but his commander said "the most important thing was getting those kids to school."
"If the second force would've gone in there, we probably would have seen a lot of problems," he said, adding that their presence helped keep "this country moving forward."
Iron Triangle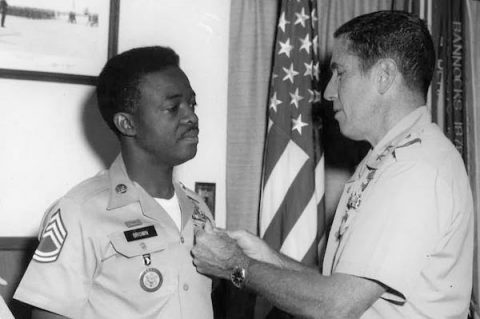 A decade later, Brown was a platoon sergeant, leading patrols through the notorious Iron Triangle – a Viet Cong sanctuary during the Vietnam War. There, beneath the ruins of French rubber plantations, a network of underground tunnels allowed enemy combatants to seemingly disappear.
At night, Brown took cover in his sleeping bag while bombs and enemy fire brightened the sky.
"That's the way we lived for six or seven months," he said. "I didn't have a bath the entire time because there was no river available. You do what you have to do."
A New Life of Service
After 30 years of service, Brown retired and enrolled at Austin Peay. He graduated in 1985 and went on to serve on the Montgomery County Commission. During the eight years representing District 9, he promoted a number of initiatives, including a proposed nursing home for veterans in Montgomery County. Construction began on the 106-room facility in 2013, and the Brigadier General Wendell H. Gilbert Tennessee State Veterans Home opened in 2016.
Recently, Austin Peay's Military Alumni Chapter created the CSM(R) Sidney Brown Scholarship Endowment to benefit active duty military, veteran students, their spouses and children and APSU ROTC cadets.
But in Fortera Stadium last November, the humble veteran simply waved while the crowd stood and cheered his service.