APSU Sports Information
Clarksville, TN – The Austin Peay State University (APSU) baseball team twice rallied from a one-run deficit and forced extra innings but fell 5-3 in a 10-inning affair to Bradley, Thursday, in the opening game of the SAF Dirt Classic on Joe and Cathi Maynard Field at Raymond C. Hand Park.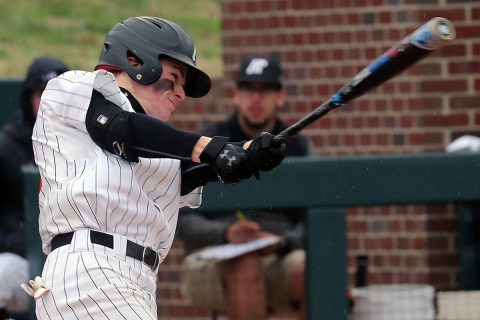 Austin Peay (0-4) took its only lead of the game in the fifth inning. Catcher David Martinez extended the frame when he earned a two-out walk.
Shortstop Bobby Head followed with his first hit of 2019, a home run that curled around the foul pole in left to give the Govs a 2-1 lead.
Bradley (3-1) battled back with single runs in the sixth and seventh innings. The Braves got a runner in scoring position with help from the Govs defense and second baseman Nick McMurray drove in the tying run with a squeeze bunt. One inning later it was designated hitter Eli Rawlinson who used the long ball to give Bradley a 3-2 lead.
The Govs would need an inning to piece together their game-tying rally and again it started with David Martinez who doubled to start the eighth. After a sac bunt and a walk, center fielder Garrett Spain used an infield single to drive in the run and tie the game.
Bradley would see a golden opportunity to take the lead in the ninth pass it by as it loaded the bases with a single, walk and a hit batsman but Govs reliever Brett Newberg would strikeout the next batter to end the threat.
The Braves would not miss on their next scoring chance in the 10th. A single, intentional walk and groundout put runners at second and third with one out. Center fielder Andy Shadid provided the tie-breaking hit with a single into shallow center field that drove in two runs for a 5-3 Bradley lead.
Austin Peay would have a chance to respond in its half of the 10th, using two infield singles and a walk all with two out to load the bases. But Bradley closer Allan Beer struck out the Govs pinch hitter to end the game.
Andy Shadid's two RBI paced the Braves offense which saw seven batters record a hit – shortstop Luke Shadid and McMurray each posting two hits.
Second baseman Garrett Kueber, Spain and third baseman Malcolm Tipler each had three hits for the Govs.
Newberg (0-2) suffered the loss in his two-inning relief outing, allowing three hits and two walks while striking out four. Govs starter Brandon Vial went four innings and struck out a career-high seven batters, including four straight in the third and fourth innings.
Bradley reliever Cole Cook (2-0) picked up the win after allowing a run on four hits and a walk in three innings. Beer picked up his second save after striking out three of the six batters he faced in the 10th.
Moment That Mattered
Seeking his first hit of 2019, shortstop Bobby Head came to the plate in the fifth with the Govs trailing by a run and catcher David Martinez on base. He would take the first three pitches of the at-bat for balls before seeing a strike.
Head would see the next pitch down the middle of the plate and drove it down the left field line, wrapping it around the foul pole for a go-ahead two-run home run. It was his first hit of 2019 and his second collegiate home run.
APSU Notes
Spain Keeps Producing
Center fielder Garrett Spain had two hits, including a game-tying RBI single in the eighth, to extend his career-opening hit streak to four games. He also has an RBI in each of his first four collegiate games played – ending the day with a team-leading five RBI.
First One, Now Two
After a slow start to 2019, shortstop Garrett Kueber ended the opening weekend with a base hit – his first of the season. He returned to action Thursday in a new spot – the top of the order – and followed that one-hit outing with a two-hit outburst.
Next Up For APSU
Austin Peay is scheduled to resume the SAF Dirt Classic with a 3:00pm, Friday contest against Western Michigan at Raymond C. Hand Park. However, inclement weather is forecast.
Schedule updates will be available online at LetsGoPeay.com – the official website of APSU athletics – and on Twitter by visiting @AustinPeayBSB.