NASA Headquarters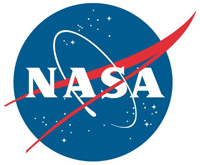 Washington, D.C. – NASA says SpaceX's Crew Dragon spacecraft—designed to fly astronauts to the International Space Station from U.S. soil—is ready for its debut flight on the company's Falcon 9 rocket. It is a first-of-its-kind test mission of a commercially-built and operated American spacecraft and rocket designed for humans.
The Demo-1 uncrewed flight test, targeted to launch March 2nd, will demonstrate the company's ability to safely launch crew to the space station and return them home.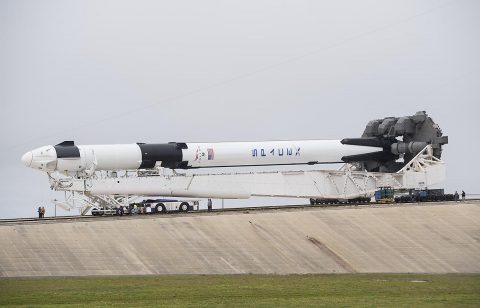 "It's time to fly the SpaceX Demo-1 mission," said Steve Stich, NASA launch manager and deputy manager of NASA's Commercial Crew Program. "This mission is an important step in returning human spaceflight to American soil. SpaceX and NASA teams are working side-by-side on this mission from start to finish as we have throughout this process. This flight test will inform the system design, operations and drive any changes that need to be made ahead of crew flights. We are ready to learn by flying."
NASA and SpaceX are working together as public-private partnerships to build on the success of American companies already delivering cargo to the space station. Demo-1 is a critical step for NASA and SpaceX to demonstrate the ability to safely fly missions with NASA astronauts to the orbital laboratory.
"Demo-1 is our end-to-end flight test to ensure the spacecraft and systems operate as designed before we put crew on board," said Benji Reed, SpaceX director of crew mission management.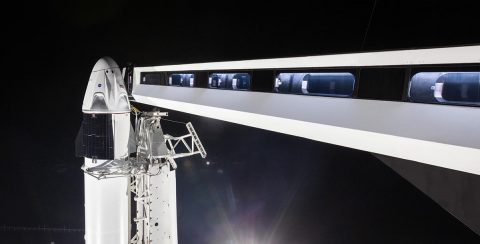 On launch day, SpaceX will command Crew Dragon and Falcon 9's launch from Kennedy Space Center's historic Launch Control Center Firing Room 4, which oversaw the countdown and liftoff of the final 15 space shuttle missions.
Falcon 9 is targeted to lift off at 2:49 a.m. from Launch Complex 39A at NASA's Kennedy Space Center. Pad A was the launch site for 11 Apollo Saturn V missions, including Apollo 11, the first Moon landing, and 82 space shuttle missions, including STS-1, the first shuttle launch, and STS-135, the final shuttle mission.
"Demo-1 is a demonstration of the Falcon 9 rocket, Crew Dragon spacecraft, ground systems and overall operations – basically just about everything that needs to be operating and operating well before we want to put our astronauts on-board," said Mike Lee, NASA mission manager for SpaceX's Demo-1 flight test. "Our main goals are to validate as many aspects of the spacecraft's systems as we can without a crew on-board, monitor its approach and docking to the space station, and then monitor the undocking, deorbit, entry and splashdown."
As Crew Dragon ascends into space, SpaceX will command Crew Dragon from its mission control center in Hawthorne, California. NASA teams will monitor operations throughout the flight from Mission Control, Houston at the agency's Johnson Space Center.
SpaceX will test the spacecraft's autonomous systems' ability to maneuver and dock with the space station. During Crew Dragon's approach, on-orbit demonstrations will include rendezvous activities from a distance of up to 2.5 miles (4 km), known as far field, and activities within one mile (1.6 km), known as near field.
As the spacecraft approaches the space station, it will demonstrate its automated control and maneuvering capabilities by intentionally reversing course and backing away from the station before the final docking sequence. During this flight, Crew Dragon will dock to the station's Harmony module forward, fitted with the new international docking adapter installed during an August 2016 spacewalk, port last used during the final shuttle mission in 2011.
The docking phase, as well as the return and recovery of Crew Dragon, include many new first-time events that cannot be totally modeled on the ground and thus are critically important to understand the design and systems ability to support crew flights. Previous cargo Dragon vehicles have been attached to the space station after capture by the station's robotic arm. The Crew Dragon will fly in all the way to dock using new sensor systems, new propulsion systems and docking mechanism to attach to station.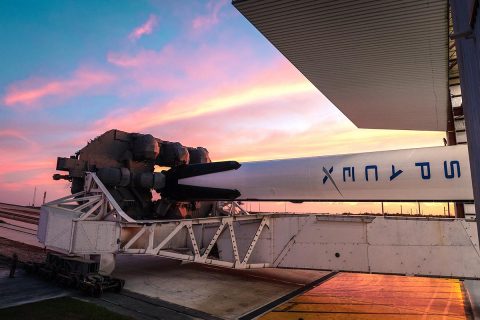 For Demo-1, Crew Dragon will carry about 400 pounds of crew supplies and equipment to the space station and return some critical research samples to Earth. Teams in the space station Mission Control Center at Johnson will monitor station crew members' opening of the spacecraft hatch, enter Crew Dragon and unpack the capsule.
The spacecraft will remain docked to the space station for about two weeks. Ultimately, on future missions, Crew Dragon will be able to stay docked to station for up to 210 days during NASA crew rotation missions.
After undocking from station, Crew Dragon will begin its descent to Earth. Additional spacecraft mission objectives will include a safe departure from the station followed by a deorbit burn and parachute deployment to slow the spacecraft before splashdown in the Atlantic Ocean off the Florida Space Coast. SpaceX's recovery ship,
Go Searcher
, will retrieve Crew Dragon and transport it back to port.
NASA and SpaceX will use data from Demo-1 to further prepare for Demo-2, the crewed flight test that will carry NASA astronauts Bob Behnken and Doug Hurley to the International Space Station. NASA will validate the performance of SpaceX's systems before putting crew on-board for the Demo-2 flight, currently targeted for July.
Commercial crew is working with both Boeing and SpaceX to design, build, test and operate safe, reliable and cost-effective human transportation systems to low-Earth orbit. Both companies are targeting to have flight tests with NASA astronauts in 2019, which will restore the nation's human launch capability to and from the station.
NASA continues to work with Boeing as the company plans for the uncrewed flight test of its CST-100 Starliner spacecraft atop a United Launch Alliance Atlas V rocket, known as the Orbital Flight Test, targeted for NET April 2019. Boeing's Crew Flight Test is targeted for NET August 2019.