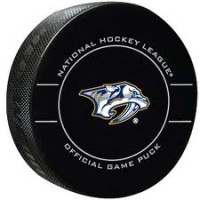 St. Paul, MN – The Nashville Predators clawed their way back from a 2-1 deficit against the Minnesota Wild tonight to win the game, 3-2 in a shootout.
The two points Nashville picked up keeps them in touch with the Central Division leading Winnipeg Jets who beat Columbus 5-2 today.
Nashville faced several ex-Predators tonight with Kevin Fiala facing his former team, along with Anthony Bitetto, Ryan Suter and Pontus Aberg.
The Predators brought former Minnesota sharp-shooter Mikael Granlund with them to face his former team as well.
Nick Bonino got the Predators on the scoreboard first at 5:21 of the first period, kicking the puck with his skate to maintain control then scoring on the Wild for the early 1-0 lead. Nashville would take the one goal lead to the first intermission.
In the second period, Minnesota would tie the game at 16:35 when Eric Fehr would drive the net on a breakaway and snap a shot over the shoulder of Predators goalie, Juuse Saros and the score was 1-1.
Then, at 19:22 of the second period, Jason Zucker fired the one-timer home off of a feed from Ryan Suter and the Wild would take a 2-1 lead to the locker room for the second intermission.
The third period would be an aggressive display of hockey from both teams, even though the Wild played last night and didn't return home until 5am this morning. Nashville was expected to wear this team down by the third period, but Minnesota showed no signs of fatigue at this late stage of the contest.
Then at 15:41 of the final frame, Filip Forsberg did what he does best and that's score. Forsberg took a rebound from in front of the Minnesota net to tie the game at 2-2. The two teams would go to overtime knotted at two apiece.
Neither team was able to score during the three-on-three overtime, so it was to a shootout to determine who would get the bonus point. Ryan Ellis gave Nashville the early shootout lead, then with the game on the line, Zach Parise would tie it to send the contest to sudden death.
It would be Ryan Johansen who would seal the deal for Nashville when he scored the deciding goal to end the game. Nashville out shot the Wild 43-26.
The two teams will meet again on Tuesday night in Nashville. Puck drops at 7:00pm.