Austin Peay State University Sports Information

Daytona Beach, FL – Austin Peay State University (APSU) men's tennis team suffered defeat to Bethune-Cookman, 4-1, Monday, at the City Island Tennis Center.
The Governors (3-8) won No. 3 doubles and No. 6 singles, but the Wildcats (2-4) held firm the rest of the way in singles.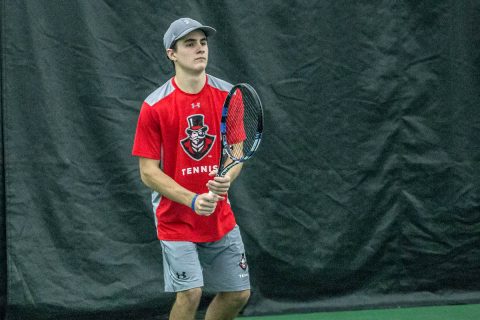 The doubles were competitive, but the Wildcats earned a couple breaks at No. 1 doubles to win 6-3 and got a crucial break at No. 2 doubles to win 6-4.
The Govs got a win at No. 6 singles to the match at 1-1, but the Wildcats fended off the Govs in the other singles matches.
Anton Damberg won the first set of his match at No. 3 singles and was leading in the second, but it went unfinished as the Wildcats won at No. 1, No. 2, and No. 5 singles to claim the match.
The Govs end their road stretch with a 2:00pm, Thursday contest against Valdosta State.
Box Score
Bethune-Cookman 4, Austin Peay 1
Doubles
1. Phillip Lynch/Victor Bravo (BCU) def. Almantas Ozelis/Anton Damberg (APSU) 6-3
2. Jose Plazas/Juan Navarro (BCU) def. Timo Kiesslich/Christian Edison (APSU) 6-4
3. Chad Woodham/Jacob Lorino (APSU) def. No player/No player (BCU), by default
Singles
1. Victor Bravo (BCU) def. Almantas Ozelis (APSU) 6-2, 6-0
2. Victor Castro (BCU) def. Christian Edison (APSU) 6-1, 6-1
3. Anton Damberg (APSU) vs. Phillip Lynch (BCU) 6-1, 4-3, unfinished
4. Jose Plazas (BCU) def. Timo Kiesslich (BCU) 6-4, 6-0
5. Juan Navarro (BCU) vs. Jacob Lorino (APSU) 6-2, 5-2, unfinished
6. Hunter Sanders (APSU) def. No player (BCU), by default