Austin Peay State University Sports Information
Gulf Shores, AL – The Austin Peay State University (APSU) beach volleyball team dropped their first match of the season at the March to May Invitational against Texas A&M-Corpus Christi, 4-1, Friday afternoon.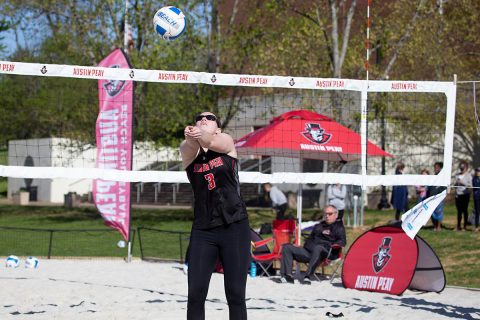 Graduate transfer Ciera Koons began her Governor career in an exciting fashion as she and partner Brooke Moore finished an exciting three-set finish over the Islanders Demi McInnis and Kylie Kvam at the No. 4 pairing. Koons and Moore took the first set 21-17 and followed by edging out the third set 19-17 for the Govs only point of the afternoon.
The Governors will take on New Orleans tomorrow morning at 3:00pm to continue the March to May Invitational.
Be sure to follow the Govs on Twitter at @AustinPeayBVB for updates throughout the weekend at the March to May Invitational.
Box Score
Austin Peay 1, Texas A&M – Corpus Christi 4
Court 1: Selina Marolf/Abby DeVido (TAMCC) def. Ginny Gerig/Cori Theiss (AP): 21-17, 21-11
Court 2: Rachel Young/Madison Green (TAMCC ) def. Haley Turner/Jenna Panning (AP): 21-16, 21-16
Court 3: Emma Coudon/Lael Ceriani (TAMCC) def. Caroline Waite/Chloe Stitt (AP): 21-14, 21-18
Court 4: Ciera Koons/Brooke Moore (AP) def. Demi McInnis/Kylie Kvam (TAMCC): 21-17, 18-21, 19-17
Court 5: Brooke Adkisson/Sam Dumity (TAMCC) def. MiMi Arrington/Aysha Hood (AP): 21-12, 25, 23