Austin Peay State University Sports Information

Clarksville, TN – The Austin Peay State University (APSU) men's tennis team used a strong performance in their final non-conference match before Ohio Valley Conference action, defeating Martin Methodist, 7-0, Friday, a the Governors Tennis Center.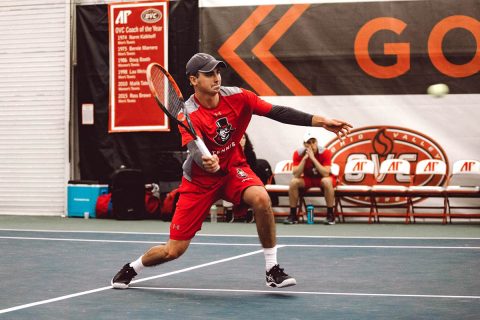 The Governors (4-10) dominated the Redhawks (1-8) in every single facet of the match, improving to 4-4 at home.
On Court No. 2, the duo of Timo Kiesslich and Christian Edison came out firing, winning 6-0 in only 15 minutes of actual time.
The Govs were comfortably ahead in No. 1 and No. 3 doubles, but it was the duo of Chad Woodham and Jacob Lorino who gave the Govs a 1-0 lead going into singles.
Anton Damberg got things rolling in singles, with a dominant 6-0, 6-0 victory at No. 3 singles. It was the first victory by an APSU player without dropping a game this season.
Kiesslich won his first dual match of the season at No. 4 singles with a straight-set win at No. 4 singles. The junior clinched the deciding set, 7-5, to extend the overall lead to 3-0.
Edison won the first set of his match at No. 2 singles, but was trailing for most of the second set. However, a crucial break of his opponent's serve when down 5-4, allowed him to stay in the match and after holding serve, went up 6-5. His opponent responded by holding serve to force a tiebreak, which Edison seized control of early on, winning the set and the match for the Govs.
Almantas Ozelis also won at No. 1 singles in three sets. After winning the first set, but losing the second and trailing 3-0 in the final set, the senior reeled off six straight games to win his seventh singles match of the season.
Hunter Sanders also picked up a win at No. 6 singles. Sanders won the first set, 6-1, before his opponent retired.
The Govs open up OVC play next weekend against Tennessee State at home.
Box Score
Austin Peay 7, Martin Methodist 0
Doubles
1. Almantas Ozelis/Anton Damberg (APSU) vs. Jesus Quesada/Federico Gomez (MMCM) 5-2, unfinished
2. Timo Kiesslich/Christian Edison (APSU) def. Brad Prada/Jurgen Hildmann (MMCM) 6-0
3. Chad Woodham/Jacob Lorino (APSU) def. Eduardo Costa/Anh Hoang (MMCM) 6-1
Singles
1. Almantas Ozelis (APSU) def. Jesus Quesada (MMCM) 6-1, 5-7, 6-3
2. Christian Edison (APSU) def. Federico Gomez (MMCM) 6-3, 7-6
3. Anton Damberg (APSU) def. Brad Prada (MMCM) 6-0, 6-0
4. Timo Kiesslich (APSU) def. Eduardo Costa (MMCM) 6-1, 7-5
5. Jacob Lorino (APSU) def. Anh Hoang (MMCM) 4-6, 6-1, 1-0
6. Hunter Sanders (APSU) def. Manuel Rodilla (MMCM) 6-1, retired
Order of finish: Doubles (2,3); Singles (3,4,2,1,6,5)