Written by Sgt. 1st Class Katrina Craig
101st Airborne Division (Air Assault)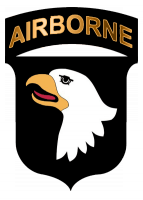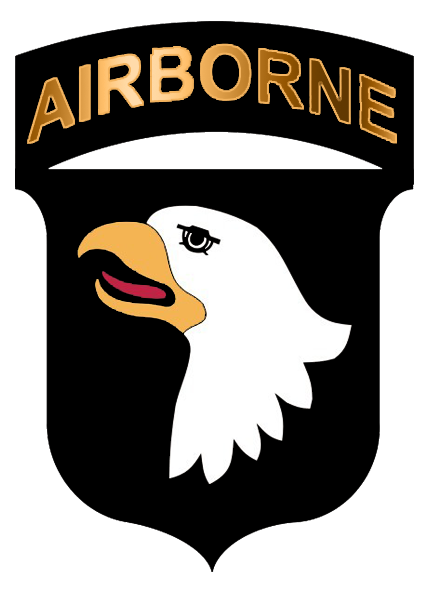 Fort Campbell, KY – The 101st Airborne Division, as we know it today, stems from World War II. Nearly eight decades ago, Nazi forces occupied Carentan, a small city in northern France. The 101st Airborne Division had one mission on June 6th, 1944 – liberate Carentan.
The Battle of Normandy was a week of brutal fighting, during which many U.S. Soldiers were either killed or missing in action. Eventually, 101st troops defeated the Nazis, driving them out of the city. The newly liberated citizens of Carentan developed a swell of thankfulness so deep it formed a bond between the citizens of two cities, a world apart.
Although many of those touched by that battle have passed, a new French generation continues to share their ancestors' gratitude for the 101st Soldiers who gave their lives for people whom they never met.
To learn about the division that saved Carentan, more than 30 seniors from Lycee Sivard de Beaulieu High School, Carentan, France, visited Fort Campbell March 12th to see how today's 101st Soldier trains.
Patrick Fissot, a high school history teacher at the school, organized the "Memory and Gratitude Tour" for his students to visit the U.S. Army division that has a huge presence in their small town.
"We wanted to say thank you to the 101st Division," said Fissot during his visit. "Your Soldiers accepted their mission to cross the Atlantic Ocean in 1944 to fight Nazis. I believe that is why we are free today."
Fissot and his students had thanked a 95-year-old 101st paratrooper who helped liberate Carentan, during a Skype teleconference set up by the facility at Fort Campbell High School. First Lt. Norwood Thomas shared stories with French and American students about his service during WWII. His most vivid memories were of the people in Carentan.
"I gave a little girl a bar of Camay toilette soap, it made her very happy," Thomas said. "She hadn't seen soap in four months."
Young minds worked hard in silence to grasp the level of suffering the citzens a war-torn city experienced. Thomas took advantage of the quiet to share more about the loving nature of the people of Carentan.
"We had been eating K-Rations for weeks," Thomas said. "It was powdered everything, eggs, milk; you name it. Carentan people gave us fresh milk and food. It was the best I've ever had."
The students laughed.
Although connecting with the experiences of a battle-worn Soldier turned great-grandfather may have been difficult for the high school seniors, they also experienced how today's 101st Soldier trains at The Sabalauski Air Assault School. Nearly all of the students rappelled from the tower after a brief demonstration by the school's staff.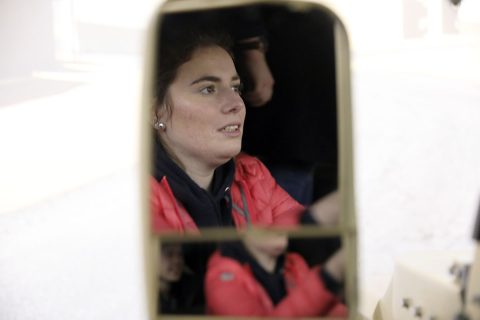 "Rappelling off the tower gave us a chance to see what a Soldier experiences during training," said Peter Martin, a student, after testing his grit. "It was scary, but I was proud of myself for doing it."
The students' excitement after visiting the air assault school was contagious. Salima Perrotte, a student touring the installation, described the 101st Airborne Division as a personified celebrity in their city.
"In Carentan, we are surrounded by the 101," Perrotte said. "We have streets and restaurants named after the division."
After spending a day at Fort Campbell, the students reflected on what they experienced. Many said the landscape looks the same as on television and were a little surprised by it. Others talked about eating American hamburgers and curly fries at the 101st Airborne Division Sustainment Brigade dining facility while chatting with Soldiers.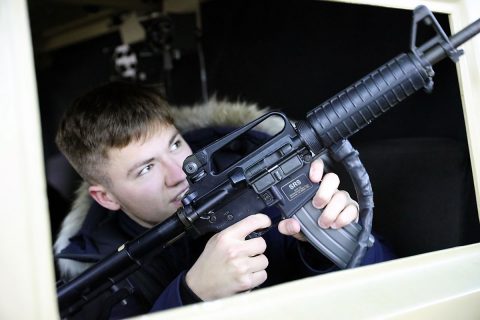 Fissot has one wish for the legacy of his "Memory and Gratitude Tour."
"I hope that many years from now the students will talk to their children about the 101st Division and their visit today," he said. "It is important that future generations understand and remember what those great Soldiers did for us a long time ago."