Austin Peay State University (APSU)

Clarksville, TN – A very excited group of Little Govs recently learned just how fun science can be thanks to a project undertaken by an Austin Peay State University (APSU) leadership class.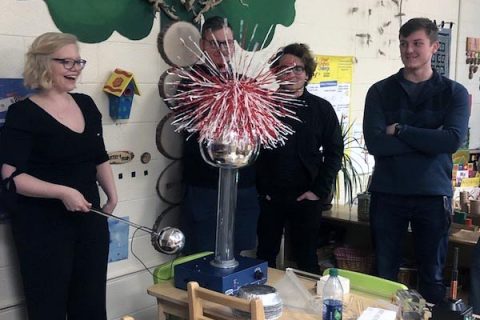 On a Thursday afternoon, APSU students Harrison Welch, Gretchen Heinzelman, David Nikolao and Mackenzie Rose hosted a science show for the Little Govs Child Learning Center on campus.
"In this class we are required to conduct a service project for the community," Nikolao said. "My group and I have decided that our service project would be a little more out of the box."
As part of the science show, Austin Peay's chemistry club, Chi Epsilon Mu, created "smoking juice" for the children, which they were able to drink. The club also made "elephant toothpaste," which resulted in a large mound of foam.
Del Square Psi, the student physics club, used electricity to simulate the theme song from "Star Wars," and club members amazed the children by turning a balloon into a small fireball.
The leadership class, taught by APSU Dean of Students Greg Singleton, teaches students through hands-on experience to become successful leaders.