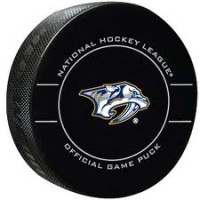 Nashville, TN – The Nashville Predators fell to the Pittsburgh Penguins, 2-1 in a Bridgestone Arena shoot-out, with Sidney Crosby proving to be the difference.
The Predators were pedaling uphill all night long chasing the game after a whirlwind start where they attacked the Pens in the opening frame of the contest. Once again, the story of their season so far, they have no power play.
The two teams traded punches during the first period with plenty of opportunities for both teams, but both Pekka Rinne and Matt Murray stood tall in net for their respective teams to keep the game scoreless.
Then at 5:57 of the second period, Bryan Rust took a feed from Kris Letang from the crease and slipped the backhand into the net for the Pittsburgh lead, 1-0.
That score held firm through the second intermission.
Into the third period, both teams traded chances as Pittsburgh controlled the puck throughout the period. Nashville stepped up their pressure late in the period when at 16:59, Ryan Ellis fired a wrist shot from the sharp angle, glove side, past Murray and the game was tied, 2-2.
Regulation ended with the teams tied, and it was off to the overtime period, where oddly enough, Filip Forsberg didn't start the OT. Fourth line center, Kyle Turris got the nod, but neither team could find a way to score so it was off to the shootout.
Nashville sent Ryan Johansen, Ryan Ellis and Brian Boyle to the center dot to no avail. The Penguins sent Phil Kessel and Sidney Crosby and it was Crosby who scored to secure the second point for the Pens.
Nashville will hit the road for a date with the Winnipeg Jets on Saturday night. The two teams are neck and neck in the central division of the Western Conference.