APSU Sports Information

Charleston, IL – Austin Peay State University (APSU) softball pitcher Morgan Rackel threw her fourth shutout of the season to open Ohio Valley Conference play, Sunday afternoon, as the Governors softball team defeated Eastern Illinois, 9-0, before falling to the Panthers in the nightcap, 4-1.
Rackel (12-5) limited Eastern Illinois to three singles on the day, while striking out nine and walking none.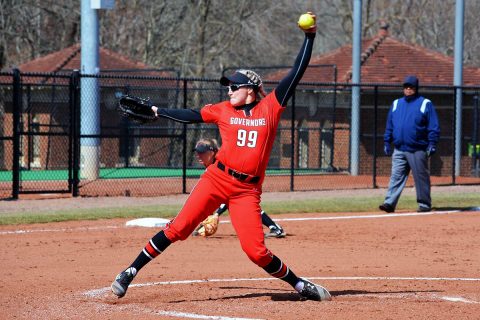 Game 1
APSU 9, EIU 0
The Governors (16-14, 1-1 OVC) jumped on the Panthers (10-22, 1-3 OVC) early-on, with Kelsey Gross driving in Rackel – who had reached with a single — all the way around from first base on a two-out double to center field for the quick 1-0 advantage.
Rackel would also have a hand in the Govs next run in the top of the third, as she doubled in Drew Dudley to make it 2-0.
The Govs would break the game open in the fourth inning by scoring three more runs, highlighted by a two-run double by Dudley and a sacrifice fly from Kacy Acree.
Austin Peay would closeout the games scoring with four final runs in the fifth inning, with Natalie Schilling driving in two with a single, Brooke Pfefferle by being hit by a pitch with the bases loaded and the final run scoring on a ground out by Dudley.
Game 2
EIU 4, APSU 1
The Govs fell behind the Panthers 4-0 after the first three innings, despite having scoring chances in each of the first innings by getting runners into scoring position in each.
Carly Mattson would finally get the Govs on the board with her sixth home run of the season to open the fourth inning, but that would be all the scoring APSU would muster as they left seven runners on base in the game and outhit the Panthers overall, 8-6.
Inside the Boxscore
Morgan Rackel has not allowed more than one earned run in each of her last five starts in the circle.
Kacy Acree and Morgan Rackel have seven-game hit streaks.
Kelsey Gross has recorded 10 strikeouts in her last 7.1 innings of relief pitching.
Kacy Acree moved past Leigh Pettyjohn (1987-90) for sixth-place all-time in career hits (181).
Morgan Rackel's shutout was the 12th of her career.
APSU Head Coach Kassie Stanfill Statements
On Rackel's pitching
"Morgan threw well today. She controlled the zone and kept EIU hitters off balance, while not going deep into too many counts."
On Lexi Osoxski's day at the plate
"Lexi was on fire today with five hits in six at bats. Since coming back from her injury, she has been one of our hotter hitters at the plate over the past couple of weeks."
On needing to string hits together in Game 2
"We have to find a way to string more hits together in our second games. We're getting people on base, but we're just not finding ways to get them in. That has been one of our big struggles all season."