APSU Sports Information

Florence, AL – Austin Peay State University (APSU) men's tennis team fell to North Alabama in their final non-conference bout of the season, 5-2, Tuesday, at the UNA Varsity Tennis Courts.
The Governors (5-11, 1-0 OVC) won the doubles point, but could not prevail in a tight singles portion.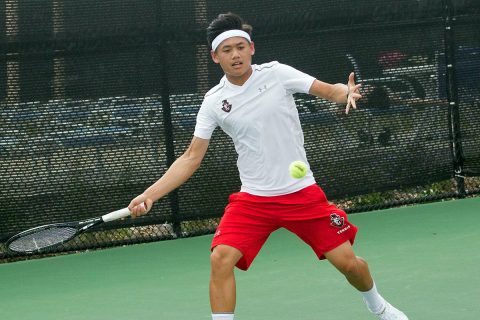 Christian Edison and Timo Kiesslich got the Govs rolling with a 6-2 win at No. 2 doubles, the pair's third straight victory.
Not long after, Anton Damberg, returning from missing the Ohio Valley Conference opener due to illness, teamed with Almantas Ozelis for a 6-2 win at No. 1 singles to clinch the doubles point.
Singles started off tight and hotly contested. Damberg got an early break at No. 3 singles and used it to win the first set 6-2. However, the Lions (2-12, 0-2 ASUN) answered back with two first-set wins at No. 2 and No. 5 singles. The Lions looked to have seized control of singles after another first-set win at No. 1 singles, but Jacob Lorino won the first set at No. 4 singles, 6-4, meaning the teams split the first sets across the six singles matches.
The Lions started to feel the tide turn in their favor in the second sets of singles, especially after they knotted the match up at 1-1 with a straight-set win at No. 5 singles. Damberg, Woodham, and Lorino were also forced into a third set after all had won the first set.
The Lions took the lead after a comeback in the second set at No. 2 singles. Down 5-4, Oscar Meslin rallied off three straight games against Edison to give North Alabama a 2-1 lead. Not long after, the Lions picked up another straight-set win at No. 1 singles to lead 3-1.
It was not getting any better for the Govs as Damberg, Lorino, and Woodham all trailed in their third sets when the Lions went up 3-1. In the end, the Lions used a comeback win at No. 3 singles to win the match. Woodham did win his match at No. 6 singles though, winning 6-4, 4-6, 6-3.
The Govs stay on the road and return to action against Jacksonville State in OVC play, 12:00pm, Friday, March 29th.
Box Score
North Alabama 4, Austin Peay 1
Doubles
1. Almantas Ozelis/Anton Damberg (APSU) def. Jason Pimenta/Gustavo Girao (UNA) 6-2
2. Christian Edison/Timo Kiesslich (APSU) def. Andreas Hansen/Oscar Meslin (UNA) 6-2
3. George Markos/Tim Heslin (UNA) def. Jacob Lorino/Chad Woodham (APSU) 6-4
Singles
1. Jason Pimenta (UNA) def. Almantas Ozelis (APSU) 6-4, 6-4
2. Oscar Meslin (UNA) def. Christian Edison (APSU) 6-2, 7-5
3. Gustavo Girao (UNA) def. Anton Damberg (APSU) 2-6, 6-1, 6-2
4. Andreas Hansen (UNA) def. Jacob Lorino (APSU) 4-6, 6-0, 6-4
5. Cade Reasons (UNA) def. Hunter Sanders (APSU) 6-2, 6-4
6. Chad Woodham (APSU) def. George Markos (UNA) 6-4, 4-6, 6-3
Order of finish: Doubles (2,1,3); Singles (5,2,1,3,6,4)