APSU Sports Information
Clarksville, TN – The Austin Peay State University (APSU) beach volleyball team split its doubleheader against North Alabama Thursday afternoon to start ASUN conference play.
In the first match of the day, juniors Ginny Gerig and Cori Theiss gave the Governors their first points of the afternoon in the No. 2 pairing after they defeated North Alabama's Ashytn Kapovich and Joise Maldonado in straight sets, 21-17, 21-13.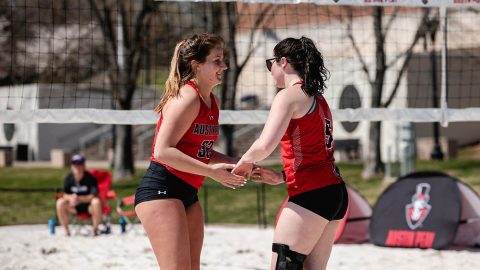 Following right behind, the No. 3 pairing of Jenna Panning and Haley Turner defeated the Lions' Sina Faulk and Catie Ladner in straight sets as well, 21-11, 21-13, but the Govs fell, 3-2.
The Lions and the Governors went right into action after the Lions took match one, but this time the Governors knew that they could edge out a victory in match two. The first points by the Governors in match two were picked up by the No. 5 pairing of Caroline Waite and MiMi Arrington as they battled for a victory against the Lions' Ana Pacheco and Genesis Benitez, 21-19, 22-20.
Turner and Panning were not done putting up points for the Govs as they defeated Faulk and Ladner of North Alabama in the No. 3 pairing in straight sets, 21-10, 21-19. The last and final pairing to determine the match was the No. 2 pairing with the Govs' Brooke Moore and Ciera Koons against Kapovich and Maldonado. The Govs and Lions battled into three sets as the Govs took set one, 21-17, and the Lions snagged set two in extra volleys, 22-20. The Governors pulled out the victory with an early lead in the third set and came up clutch with a win, 15-12.
Head coach Taylor Mott finished her day with a smile after the Govs split the afternoon but wanted them to bring a little more fire early and to never wait.
"We started off slow in the first match against North Alabama, but it was good to see us recover in the second match," Mott said. "It's all about getting better each and every time we play."
The Governors head to Kentucky to play Morehead State in a doubleheader Saturday as conference play continues for the Govs.