Blanchfield Army Community Hospital Public Affairs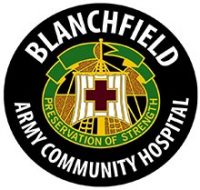 Fort Campbell, KY – March is National Professional Social Work Month and is an opportunity to spotlight the profession and highlight the important contributions social workers make to society.
"As we celebrate March as National Professional Social Work Month, we want to say a special thank you to our military and civilian social work staff at Blanchfield. They are committed to supporting our Soldiers and Family members," said Col. Anthony McQueen, hospital commander.
This year's social work month theme, "Elevate Social Work" signifies the need to increase awareness of the extraordinary contributions of the social work profession to society.
"The social work profession is dedicated to enhancing well-being and helping meet the basic needs of all people. Social workers elevate and empower people, giving them the ability to solve problems, cope with personal roadblocks and get the resources they need to succeed," said 1st Lt. Ashley Curtman, a social worker completing her clinical licensure hours at Blanchfield.
"The social work profession is deeply weaved into our society with social workers active in government, schools, universities, social service agencies, communities, corporations, military posts and in health care and mental health care settings," Curtman stated.
Locally at Fort Campbell, social workers can be found at the hospital emergency room, outlying medical clinics and embedded behavioral health clinics, military family life counseling services, Army Community Service office, Family Advocacy Program, and schools.
"Fort Campbell's social workers are both civilian and military personnel. Military social worker officers are primed to conserve the fighting strength and assist Soldiers in getting back in the fight," said Curtman.
Social workers on Fort Campbell work with both Soldiers and their families. In the Army they must have a Master's degree in social work from a program accredited by the Council on Social Work Education and have a current, unrestricted license to practice.
Social workers help people in crisis, helping them overcome issues such as death and grief, post-traumatic stress disorder, depression, anxiety and other behavioral health issues, as well as assist with epidemics, environmental pollution and natural disasters such as wildfires, hurricanes and floods.
Curtman said social workers have been in the forefront on social justice for decades, and for more than a century the profession has been on the cutting edge of helping create changes to make our society a better place to live, and stand ready to help our society overcome current pressing issues.
Take time today to thank a social worker for their ongoing efforts in helping create a better world for all.
Sections
News
Topics
Anthony McQueen, Ashley Curtman, Bach, Blanchfield Army Community Hospital, Fort Campbell, Fort Campell KY, Greg Calidonna