APSU Sports Information

Jacksonville, AL – For the second straight match, the Austin Peay State University (APSU) men's tennis team won the doubles point, but could not come through in singles, falling to Jacksonville State, 4-3, Friday, at the JSU Tennis Complex.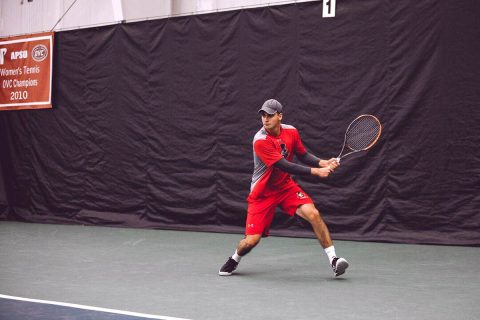 After winning the doubles point, senior Almantas Ozelis stretched his career mark against the Gamecocks (9-4, 2-0 OVC) to 6-0, but it was not enough to remain unbeaten in the Ohio Valley Conference.
The No. 3 pairing of Chad Woodham and Jacob Lorino continued their fine form with a 6-4 win to open things up. The duo has now won four of their last five doubles matches.
Both matches at No. 1 doubles and No. 2 doubles went into a tiebreak, but it was the Governors (5-12, 1-1 OVC) who prevailed in the first tiebreak. Timo Kiesslich and reigning OVC Player of the Week Christian Edison won the tiebreak to give the Govs a 1-0 lead.
Things started to turn sour for the Govs when JSU won five of the six first sets in singles play. Ozelis won a tiebreaker in the first set at No. 1 singles to give the Govs at least a chance to climb back into the match.
Kiesslich battled back to win the second set, but the damage had already been done. The Gamecocks dominated at No. 2, No. 3, and No. 5 singles to go up 3-1. Ozelis won his match after taking the second set in another tiebreak, but Jordi Blanchar won in straight sets at No. 6 singles just prior to Ozelis's win, giving the Gamecocks the victory.
Kiesslich, after losing the first set in a tiebreak, rallied to win the match in three sets. Kiesslich won the third set tiebreak in dominating fashion, 7-1, to win his third straight singles match.
The Govs return to action next Sunday by hosting Tennessee Tech.
Box Score
Jacksonville State 4, Austin Peay 3
Doubles
1. Aljaz Kaplja/Sergio Lizarraga (JSU) vs. Almantas Ozelis/Anton Damberg (APSU) 6-6, unfinished
2. Timo Kiesslich/Christian Edison (APSU) def. Guillermo Agost/Jordi Blanchar (JSU) 7-6
3. Chad Woodham/Jacob Lorino (APSU) def. Joaquin Vallejo/Alex Vishnevskiy (JSU) 6-4
Singles
1. Almantas Ozelis (APSU) def. Aljaz Kaplja (JSU) 7-6 (7-5), 7-6 (9-7)
2. Joaquin Vallejo (JSU) def. Christian Edison (APSU) 6-1, 6-2
3. Guillermo Agost (JSU) def. Anton Damberg (APSU) 6-2, 6-2
4. Timo Kiesslich (APSU) def. Alex Vishnevskiy (JSU) 6-7 (4-7), 6-4, 7-6 (7-1)
5. Sergio Lizarraga (JSU) def. Jacob Lorino (APSU) 6-1, 6-4
6. Jordi Blanchar (JSU) def. Hunter Sanders (APSU) 7-6 (7-4), 6-3
Order of finish: Doubles (3,2); Singles (2,3,5,6,1,4)