Austin Peay State University Sports Information

Clarksville, TN – It was a special Saturday at Fortera Stadium, as the Austin Peay State University (APSU) football team hosted 20 children of military parents stationed at Fort Campbell as part of Operation Teammate.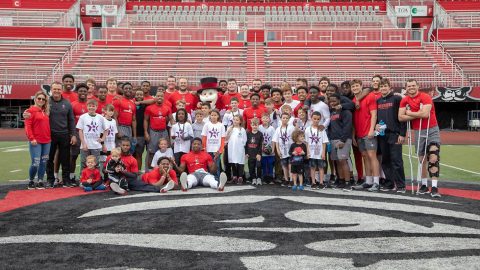 The children and their families were welcomed to Austin Peay by head coach Mark Hudspeth, who then spent time meeting the kids and their families as the kids donned the Governors' game day jerseys and helmets, and posed for pictures with the Gov himself.
For the 20 children participating – ranging from first-through-eighth grade – they have had a parent away from home on duty for a combined total of 615 months, which equates to 51 years of separation. Three of the children currently have a parent on deployment. Additionally, the families have moved duty locations a total of 44 times.
Operation Teammate, based in Augusta, Georgia, is a child-focused organization engaged in supporting the sons and daughters of all branches of the military. It provides these children with memorable sporting experiences by teaming them with sports teams who make them honorary members during various times.
"It meant a lot to do this because their families do so much for us to be able to coach and play the great game of football," Hudspeth said. "We appreciate their families' sacrifices and all that they do."
After getting to put on Austin Peay gear, the families received a tour of the Fortera Stadium facilities from on-campus recruiting coordinator Camie Cole. The families then got to meet the players, who came into the weight room to get warmed up before a fun day of football.
The players and families took to the turf, much to the delight of the children. The players were pumped up about getting to play a little pitch-and-catch as well.
"It was really great just to see their smiles and run around play," running back Ahmaad Tanner said. "It really means a lot to me to make a difference. It's like when I went on my mission trip to Africa, I love doing stuff like that to make a difference in people's lives and put smiles on their faces."
And the smiles were all around from everyone on the field. The kids split up into age groups and played some two-hand touch football with the Governors. It was certainly a highlight for the kids, but the players, parents and football staff all had a great time.
"We had a blast seeing these kids smile, seeing them enjoying being around our players and enjoying football," Hudspeth said. "I think the players probably had just as much fun as the kids, if not more, so it was great to have them around those kids. Our players are very appreciative of what these kids' parents do."
After about 45 minutes of play, the children and the players gathered at midfield for a group photo. Before leaving the field, players signed autographs and took pictures with the kids.
All in all, a rewarding Saturday morning for the kids and their families, as well as the Governor Football family.