Clarksville Police Department (CPD)

Clarksville, TN – On Thursday, April 11th, 2019, around 8:30pm, Clarksville Police report a Pontiac G8, driven by a 30 year old man and Suzuki GSX motorcycle ridden by a 26 year old man were both traveling east on Tiny Town Road and, for a yet to be determined reason, came in contact with each other and a fire ensued.
The motorcycle rider was taken to Nashville by Lifeflight and is in stable condition, but is still being treated for his injuries. The driver of the Pontiac was uninjured.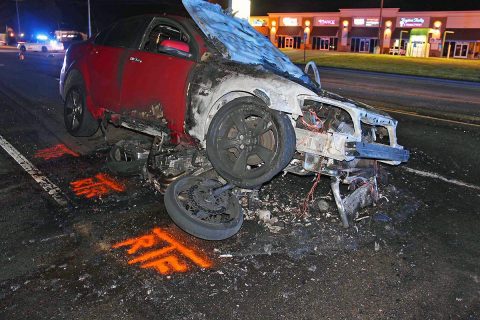 The investigation is ongoing and police are looking for witnesses to the crash.
Please contact Officer Szczerbiak, 931.648.0656, ext. 5476, Tipsline, 931.645.8477, or go online and submit a tip anonymously at P3tips.com/591