APSU Sports Information

Edwardsville, IL – The Austin Peay State University (APSU) women's tennis team continued its march toward perfection with another shutout victory over an Illinois school, blanking SIU Edwardsville 7-0, Saturday.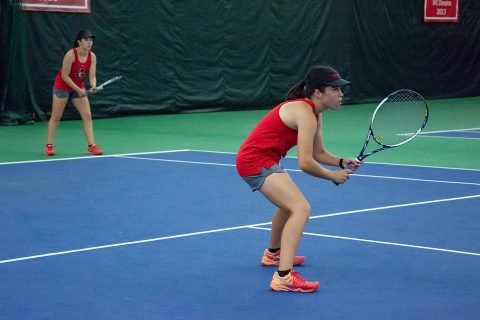 The Governors (18-0, 6-0 OVC) are now just two matches away from an undefeated regular season, as well as seeing Helena Kuppig take her singles match in three sets, extending her winning streak to 14 matches, tying teammate Claudia Yanes Garcia's streak of 14 earlier this season.
The Govs used the No. 2 and No. 3 pairings to take a 1-0 lead in doubles. The Yanes Garcia sisters came away with a 6-4 win at the No. 2 spot to clinch the point, but Fabienne Schmidt and Danielle Morris got the match going with a smooth 6-1 victory at the No. 3 position. Tatiana Lopez and Honoka Nakanishi's win streak of 11 doubles matches in a row stayed alive, despite trailing 5-4 when the doubles point was clinched.
Morris was the recipient of a victory by retirement at No. 6 singles, but the Australian freshman was leading 6-1, 2-0 at the time of retirement. Schmidt put another point on the board for the Govs with a dominate 6-1, 6-1 victory at No. 4 singles. Yanes Garcia sealed another victory with a 6-2, 6-0 triumph at No. 1 singles.
The Govs continued to perform well, with Lidia Yanes Garcia and Lopez each winning in straight sets. Kuppig now owns a share of the fourth-longest dual singles match winning streak in program history after her three-set win. The senior took the first set, 6-4, but lost the second in a tiebreak. It was the only blemish from an otherwise perfect day for the Govs, as Kuppig took the third set supertiebreaker, 10-5.
The Govs head to rival Murray State next Friday for the Heritage Bank Battle of the Border.
Box Score
Austin Peay 7, SIU Edwardsville 0
Doubles
1. Tatiana Lopez/Honoka Nakanishi (APSU) vs. Ann-Christine Link/Lara Tupper (SIUE) 4-5, unfinished
2. Claudia Yanes Garcia/Lidia Yanes Garcia (APSU) def. Callaghan Adams/Maria Thibault (SIUE) 6-4
3. Danielle Morris/Fabienne Schmidt (APSU) def. Alina Munteanu/Raillane Kamdem (SIUE) 6-2
Singles
1. Claudia Yanes Garcia (APSU) def. Aline Munteanu (SIUE) 6-2, 6-0
2. Lidia Yanes Garcia (APSU) def. Lara Tupper (SIUE) 6-2, 6-3
3. Tatiana Lopez (APSU) def. Callaghan Adams (SIUE) 6-3, 6-3
4. Fabienne Schmidt (APSU) def. Raillane Kamdem (SIUE) 6-1, 6-1
5. Helena Kuppig (APSU) def. Ann-Christine Link (SIUE), 6-4, 6-7, 1-0 (10-5)
6. Danielle Morris (APSU) def. Maria Thibault (SIUE) 6-1, 2-0, by retirement
Order of finish: Doubles (3,2); Singles (6,4,1,2,3,5)