APSU Sports Information
Clarksville, TN – Beach volleyball is still in its infancy at the collegiate level – but growing – and the Austin Peay State University (APSU) program is only in its third season of existence.
Not only is the Governors' program young, but so is the roster. With three juniors, seven sophomores and three freshmen, everyone on the roster will have eligibility remaining next year, save for graduate transfer Ciera Koons.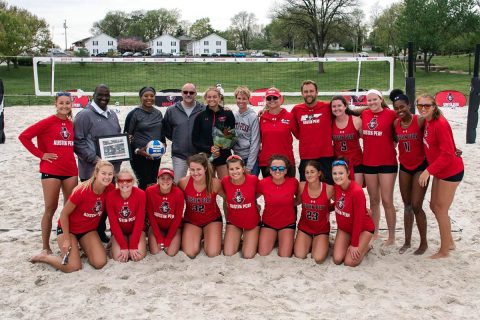 Koons arrived at Austin Peay after playing four seasons of indoor volleyball as a middle blocker for Eastern Kentucky. She played in 454 sets during her four seasons, notching 436 kills and 377 total blocks.
Upon graduation, Koons wanted to use the last of her eligibility to play beach volleyball, and even though EKU was in the process of starting its own beach program, she wanted to branch out and gain new experiences. Plus, Austin Peay offered her the graduate opportunity she was looking for – Performance Enhancement and Coaching through the Department of Health and Human Performance.
She's certainly taken to Clarksville in her first year as a Governor.
"I like the community, I like the professors, I like the people I work with, I love the team, I love the coaches," Koons said. "It's just been a dream, really. It's great."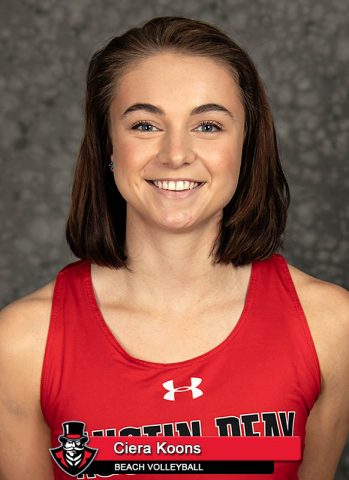 It turned into a unique situation, joining a team devoid of seniors as a graduate student, but Koons had no qualms with offering advice, and her teammates began to gravitate toward her.
"Honestly, I didn't feel any pressure at all to be a leader," Koons said. "I just kind of took the reins because I saw that they needed some leadership and I was more than willing. Coach (Taylor) Mott did talk to me a little bit about becoming more of a leader on the team, but I wanted to be anyway, and the girls accepted me"
Maybe her greatest asset as a leader is the way in which she prepares. During a recent 'Inside Austin Peay' radio show, assistant coach Travis LeBlanc made a point to brag on Koons for her work ethic.
It also doesn't go unnoticed by her teammates. Her playing partner, sophomore Brooke Moore, appreciates the passion she brings, whether in training or on match day.
"I think she's very good at leading the way," Moore said. "She's always the first one out here, always the first one in the locker room ready to go. She's always getting us pumped up ready for practice. She just loves the game, and I think that just kind of rubs off on all of us."
After playing together some during the early part of the season, Koons and Moore were paired together again to start ASUN Conference play against North Alabama. They proceeded to close out the season by winning 11 of their 15 matches, including a 5-1 record playing in the No. 2 pairing during the final week of the regular season.
Part of what has made the duo so successful, according to Koons, is the differences in their personalities.
"It's funny because I get really, really competitive and really into the match and Brooke is super calm, so we kind of even each other out," Koons said. "If I'm starting to get upset or frustrated in the match, she'll be like, 'It's OK, we're fine. We'll get the next point.' She keeps me more even-keel."
But their playing styles also mesh well together. The tall and athletic Koons is able to play difficult balls others might not be able to get to, and her defense around the net is something Moore wasn't used to seeing on the sand.
"I think she is just very consistent," Moore said. "If I put the ball up tight, she can work it. She's a big blocker up there, too, which is really helpful."
Now, the young Governors find themselves playing in the ASUN Beach Tournament as first-year members of the conference. In their third season, the Govs posted a winning record for the first time in program history, closing out the regular season at 15-13.
For Koons, she's ecstatic the team's season isn't quite over yet.
"It makes my heart happy, that's the easiest way I can put it," Koons said. "It makes me emotional just thinking about it because I was familiar with the program and I know they didn't do as well in the past as we did this year and it feels really awesome to come into this program and watch everybody improve and help them improve."
The Govs will be first up at the tournament, as they square off with ASUN North Division winner Coastal Carolina, 7:30am CT, Thursday. It's a familiar opponent for the Governors, as they traveled to Conway, South Carolina two weeks ago to take on the Chanticleers.
The Chanticleers swept both matches, but the Govs weren't put away easily, especially Koons and Moore. In the first match, Koons and Moore pushed the second set into overtime, but fell 23-25. In the second match, the Govs' duo won the first set and the decisive third set went into extras as well, with CCU coming out on top.
So coming up just shy of forcing a third set, then coming back and being oh-so-close to a three-set victory is undoubtedly motivation for the pair. It also is a burst of confidence knowing they can push Coastal Carolina – who went undefeated in ASUN play – to the brink.
"I want to beat them," Koons said. "After you lose to a team so many times, that drive to beat them just becomes heightened. You just want to beat them even more, so I think we could do it."
No matter the outcomes at the ASUN Tournament, this has been a season of tremendous growth from the Governors on the beach courts, and it is a season Koons has been proud to be a part of.
Though this will be her swan song as a collegiate athlete, she'll still be around next year as she completes her Master's degree. Eventually, her goal is to work as a strength and conditioning coach, but next season, she'll be working with the volleyball team as part of her graduate assistantship. She won't be wearing the uniform anymore, but she'll continue to be a leader for this team, just as she has all of this season.