Austin Peay State University Sports Information
Clarksville, TN – After winning four games during its recently concluded five-game homestand, the Austin Peay State University (APSU) baseball team returns to the road for a three-game Ohio Valley Conference series at UT Martin, Friday-Saturday.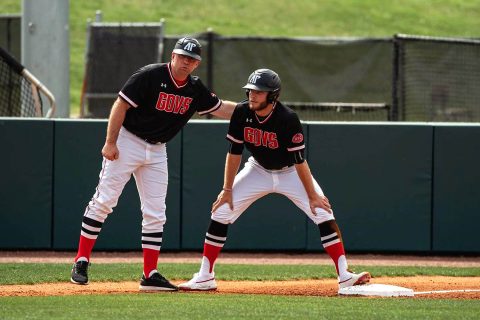 Due to inclement weather, the three-game series is scheduled to begin with a 4:00pm, Friday contest.
The Govs and Skyhawks will follow that game with a 2:00pm, Saturday doubleheader. Easter Sunday would be used as a possible makeup day, if necessary to complete the three-game set.
Austin Peay had a flair for the dramatic during its recently-completed homestand, twice winning in walk-off fashion. The Govs won Game 2 of its series against Morehead State, last Friday, in the 11th inning. Austin Peay followed that with Matt Joslin's walk-off grand slam to turn aside Southern Illinois, Tuesday.
The Govs return to the road where they have battled mixed results in 2019, posting a 6-9 record. Austin Peay has won just one of its three OVC road series so far this season, winning a pair of games at Southeast Missouri.
UT Martin owns a 5-4 home record this season and has split its first two home OVC sets. The Skyhawks were swept by UT Martin in mid-March before winning their series against Morehead State to end March.
Toeing The Rubber
Left-hander Josh Rye will get the nod in Friday afternoon's start. It will be his sixth consecutive Friday start and he is 3-1 with a 1.82 ERA since moving into the role, posting 29 strikeouts in 29.2 innings pitched.
Lefty Jacques Pucheu is the scheduled Game 2 starter this weekend. He is seeking to change his fortunes in road OVC games this weekend. He is 1-1 with a 4.50 ERA in his three previous road outings, with 19 strikeouts and 15 hits in 18 innings.
Right-hander Brandon Vial gets the nod to close the series for a seventh consecutive league weekend. He is 3-2 with a 3.00 ERA in his six OVC starts in 2019.
The Govs weekend rotation above has combined to post a 2.85 ERA and a 10-5 record in 18 starts in league action. They have 103 strikeouts in 101 innings worked and opponents are hitting just .235 against them.
First Hacks
Fifteen different Governors have started a game in the season's first 35 games. Only two players have started every game in 2019: center fielder Garrett Spain and utility man Parker Phillips.
Freshman designated hitter Matt Joslin continues to be the right man in the right spot in 2019. He is batting .750 with 12 RBI in bases-loaded situations this season, including Tuesday's walk-off grand slam against SIU.
Senior catcher David Martinez moved into the No. 3 spot in the batting order, March 29, and has batted .390 (16-41) with three homers and 13 RBI. His .380 batting average is 13th among NCAA catchers (61st overall) and third among all OVC hitters.
Center fielder Garrett Spain has reached base in all 35 games. He leads all OVC freshmen in batting average (.358), home runs (5), RBI (38) and runs scored (33). Spain also is ranked among Division I freshmen in batting average (10th), RBI (5th) and runs scored (10th).
Junior utility man Parker Phillips became the first Governors batter to hit 10 or more home runs in three seasons, hitting his 10th of 2019 against Evansville, April 9. Phillips is APSU's career leader in home runs (42) and times hit by pitch (49).
Senior Aaron Campbell has started the last four games in left field. He led the Govs with a .500 batting average (6-12) and had a team-best three doubles in the Morehead State series.
Freshman third baseman Gino Avros has reached base safely in his last 16 games, posting 18 hits (.281 BA) and 10 walks (.403 OBP) during the streak. Additionally, heehas scored 27 runs over his previous 21 games.
Sophomore Bobby Head has a hit in 12 of his last 15 games. He batted .333 (14-for-42) during an 11-game hit streak to start the run. That streak included a seven-game streak with an RBI.
Redshirt senior Garrett Kueber has made 22 consecutive starts at shortstop and coincidentally has a hit in 20 of those games. He has batted .273 (24-88) since the move, primarily as the Govs No. 2 hitter.
Junior outfielder
Malcolm Tipler
has reached base in six of his last nine plate appearances. He reached in 4-of-5 against SIU, Tuesday, including a one-out walk in the ninth to start the Govs game-winning rally.
Sophomore first baseman John McDonald saw action in all three games of the Morehead State series. He had two walks in his Game 2 start and notched a base hit in Game 2 of the set.
Junior first baseman Andrew Flaherty has started four of the last five games. He is batting .500 (6-12) with three RBI in that stretch.
APSU Govs vs. UT Martin Skyhawks
The Govs own an 88-33-2 lead in the series against the Skyhawks, which began in 1960. That includes a 59-16-1 mark in OVC regular-season games.
UT Martin has won a game in each of the last five series against Austin Peay. The Govs have won the last three sets, last losing a series at UTM in 2015.
Pitching Matchups
| | | |
| --- | --- | --- |
| Date | Austin Peay Starter | Opposing Starter |
| Fri., 4/19 | LHP Josh Rye (4-3, 4.03 ERA) | RHP Aaron Bullington (1-6, 5.36 ERA) |
| Sat., 4/20 | LHP Jacques Pucheu (5-1, 2.17 ERA) | LHP Sam Folks (3-4, 3.88 ERA) |
| Sat., 4/20 | RHP Brandon Vial (3-3, 3.18 ERA) | RHP Winston Cannon (4-6, 4.38 ERA) |