Austin Peay State University Sports Information

Clarksville, TN – Hunter Sanders and Anton Damberg picked up singles wins, but it was not enough for the Austin Peay State University (APSU) men's tennis team, falling to Belmont, 5-2, Saturday, at the Governors Tennis Center.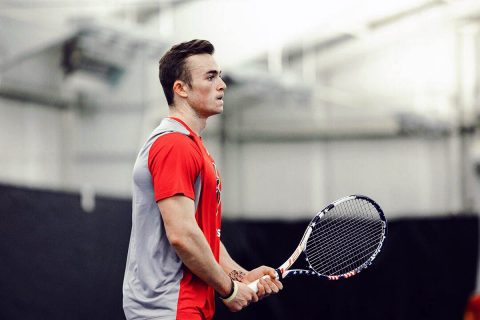 The Governors (6-14, 2-3 OVC) honored Sanders, Chad Woodham, and Almantas Ozelis on Senior Day, but missed an opportunity for a signature win before next week's Ohio Valley Conference Tournament.
The Bruins (12-9, 4-1 OVC) dominated the doubles portion of the match, taking the No. 1 and No. 2 doubles matches, 6-2, in each match to go up 1-0.
The Govs started to fight back in singles, but the Bruins did sweep at No. 2 singles to go up 2-0. At the No. 1 spot, Ozelis took on reigning OVC Player of the Year Hendrik Inno. Ozelis won the first set, 6-4, but Inno came back to win three sets, putting Belmont up 3-0.
It was the same sort of story for the Govs at No. 4 singles, falling just shy of another singles win that could have turned the tide of the match. Timo Kiesslich lost the first set to Vincent Sterkens, but rebounded for a second-set win. However, Sterkens got another early break in the third set and claimed the match for Belmont.
Damberg also won the first set at No. 3 singles, but was forced to a third set. The Swede came through for the Govs, taking the final set, 6-2, to put the Govs on the board.
Sanders dominated his opponent at No. 6 singles, winning 6-4, 6-1, to cap his last home match as a Gov.
The Govs will enter next weekend's OVC Tournament as the No. 4 seed and will play the No. 5 seed, Eastern Illinois, 2:00pm, Friday, at Centennial Sportsplex. The Govs defeated the Panthers 4-0 two weeks ago.
Box Score
Belmont 5, Austin Peay 2
Doubles
1. Hendrik Inno/Zak Khan (BELM) def. Almantas Ozelis/Anton Damberg (APSU) 6-2
2. Marko Ilic/Jake Briggs (BELM) def. Christian Edison/Timo Kiesslich (APSU) 6-2
3. Jacob Lorino/Chad Woodham (APSU) vs. Vincent Sterkens/Grant Kelly (BELM) 3-5, unfinished
Singles
1. Hendrik Inno (BELM) def. Almantas Ozelis (APSU) 4-6, 6-4, 6-1
2. Marko Ilic (BELM) def. Christian Edison (APSU) 6-2, 7-5
3. Anton Damberg (APSU) def. Zak Khan (BELM) 6-4, 4-6, 6-2
4. Vincent Sterkens (BELM) def. Timo Kiesslich (APSU) 6-3, 4-6, 6-3
5. Jake Briggs (BELM) def. Jacob Lorino (APSU) 6-3, 6-4
6. Hunter Sanders (APSU) def. David Faulkner (BELM) 6-4, 6-1
Order of finish: Doubles (2,1); Singles (2,1,4,3,5,6)