Austin Peay State University (APSU)

Clarksville, TN – For the second time in four years, the U.S. Department of State has picked an Austin Peay State University (APSU) professor for its Fulbright Scholar Program.
By winning the award, French and Francophone studies associate professor Dr. Christophe Konkobo will spend the 2019-20 academic year teaching and conducting research in the West African country Burkina Faso.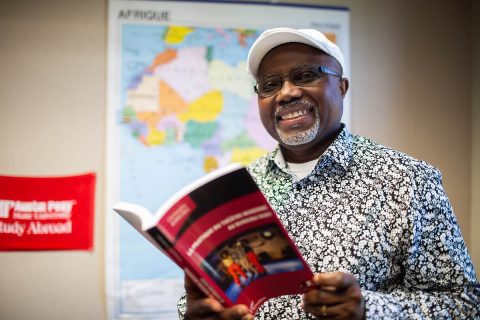 Music professor Ann Silverberg won a Fulbright Scholar grant in 2015 and spent nearly a year in China studying that country's musical past.
"I am extremely proud of Dr. Konkobo," Barry Jones, dean of the College of Arts and Letters, said. "Winning a Fulbright is an amazing compliment, and it validates what we already knew in the College of Arts and Letters, that Dr. Konkobo is a high-level scholar who has made and will continue to make important contributions to the study of Francophone literature and cinema."
Konkobo will teach African American pop culture, film and theater, and he'll research African acting and filmmaking. He has taught in APSU's Department of Languages and Literature for six years.
"I think Austin Peay made this story possible because, for instance, my chair, Dr. David Guest, has been supportive," he said. "Once I decided I wanted to do this, I knew that I would have the backing of the institution. That makes a difference."
Teaching 'American Civilization'
Konkobo will return to the University of Ouagadougou, where he earned his first two degrees (he also has master's and doctorate degrees from the University of Iowa).
"I'll teach what is known as American culture, they call it more specifically 'American Civilization,' and my niche in that particular field is African American pop culture, film and theater," he said.
The title of the class will be "Do the Right Thing," a name he borrowed from the celebrated 1989 Spike Lee movie.
"The bulk of the films and the work that students will be examining is about African Americans, about how they portray the lives and the struggles and the culture of the African American community," Konkobo said. "That's one part of it, I have a theater part too."
He also thinks developing curriculum for the University of Ouagadougou will benefit students at Austin Peay State University.
"While I am glad to be able to fulfill the pedagogical needs of the host university, I am also looking forward eventually to revising the same course syllabi and teaching them to benefit our students minoring in African American studies at Austin Peay," Konkobo wrote in his Fulbright application.
Researching African Acting, Films
Konkobo's research during the Fulbright will focus on acting and filmmaking in French-speaking (Francophone) Sub-Saharan countries. His goal is to write a book on the topic, following up on his book about theater in Burkina Faso titled "La Pratique du The?a?tre Moderne au Burkina Faso" ("The Practice of Modern Theatre in Burkina Faso").
"While examining theatre, I found interest in studying acting and actors in cinema," Konkobo wrote in his Fulbright application. "My research project examines and analyzes acting and the use of actors in Sub-Saharan Francophone films from the colonial era to contemporary times."
In a recent interview, he added: "I'll be looking at that period and examining how Africans were portrayed – not as actors, not as subjects, but as objects – and then fast-forwarding to post-colonial times when we have both actors and filmmakers getting together to create their own stories and portraying their own realities."
Living in Burkina Faso as a Fulbright Scholar will give Konkobo ample resources for his research. The capital city, Ouagadougou, hosts one of the world's largest and oldest film festivals, the Pan-African Cinema Festival of Ouagadougou, and has established itself as the home of African cinema.
Konkobo plans to interview several film producers, actors and directors, and visit The African Film Library of Ouagadougou during his research.
What Is The Fulbright?
The Fulbright Program, the flagship international educational program of the U.S. government, provides participants the "opportunity to study, teach and conduct research, exchange ideas and contribute to finding solutions to shared international concerns," according to the Department of State website.
The Fulbright Program awards about 1,200 U.S. scholar and 1,900 U.S. student grants each year. The program also brings international scholars and students to the United States. Congress and other participating countries provide funding and support for the program.
"I think for my personal development, as a scholar, as a researcher, as a teacher, it really gives me a lot more confidence that I'm doing the right thing," Konkobo said. "That colleagues from different backgrounds and different subject matters decided my topic was worthwhile, and the government decided they would fund me to research and teach on behalf of the United States.
"This is really something important."
To Learn More