Southside, TN – Historic Collinsville opened its 2019 season last weekend with a series of Easter Egg hunts for kids ages 0 -12.
Located just outside Clarksville, near the community of Southside, Historic Collinsville is a recreated village/living history museum that offers visitors a glimpse into mid 19th century life.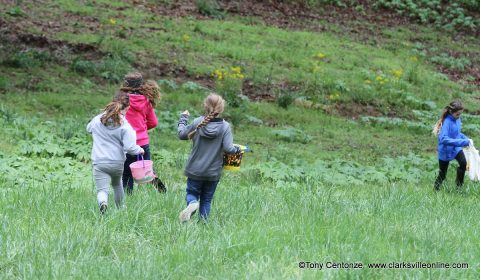 Visit Clarksville now oversees the operation of the venue, Linda Ebel is the site manager.
"Yes, Visit Clarksville now runs Historic Collinsville, and today is our Spring opening," Ebel said. "We've been doing Easter Egg hunts since 11:00am. We divided the kids into age groups, and we are just about to start the 10 – 12 year-old session. They will be looking for the golden egg, and the lucky person who finds it will win an X-Box."
Slate Workman turned out to be the lucky winner of the X-Box. He, his mom and sister were all equally excited about his discovery of the golden egg.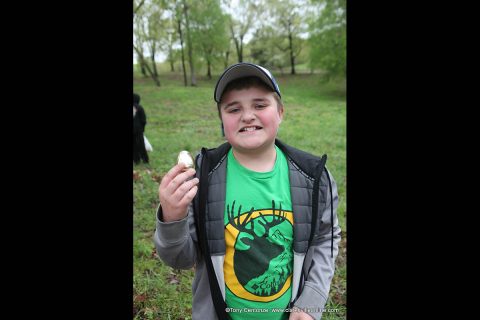 All the grand prizes for Saturday's hunt were definitely something to get excited about. 7 – 9 year-old kids had a chance to win a bicycle. The wily hunter who found the golden egg in the 4 – 6 year-old group won a Big Wheel, and one lucky member of the 0 – 3 year-old contingent won a wagon.
"There are more than 200 eggs out there right now, and not that many hunters," Ebel said. "I think this morning's cold weather kept a lot of people away."
For 2019, Historic Collinsville will be presenting some new activities, including a concert series, with shows in June, July and August.
"We have lots of school field trips planned, including a home-school day," Ebel said. "We also have a variety of interesting and educational activities. One of which is a blacksmith, who will be doing demonstrations. He is actually up there right now, forging metal crafts such as crosses. Then, of course, we will have our docents talking about the different buildings on the property, and what makes each one special.
"We also have food trucks on site today. They will actually be here throughout the summer concert series as well. We're not doing the reenactments this year, but we are bringing in lots of cool new activities that we haven't done before. It's going to be an exciting year."
Photo Gallery
About Historic Collinsville Pioneer Settlement
Set on 40 rolling rural acres, the Historic Collinsville Pioneer Settlement opened in 1974 to give children a "hands-on" experience, outside of the classroom, about life in the 1800s. It's been open to the public since 1997, recreating the past with historical structures each filled with authentic period furnishings that show a glimpse of life before and after the Civil War.
In 2018, Collinsville founders, Glenn and JoAnn Weakley sold the property to Montgomery County Government, and Visit Clarksville operates and manages the property.
Historic Collinsville is located at 4711 Weakley Road in Southside, TN, 15 miles south of Clarksville.