Clarksville, TN – Right fielder Parker Phillips hit two late home runs as the Austin Peay State University (APSU) baseball team pulled away for a 7-1 Ohio Valley Conference victory against SIU Edwardsville, Saturday afternoon on Joe Maynard Field at Raymond C. Hand Park.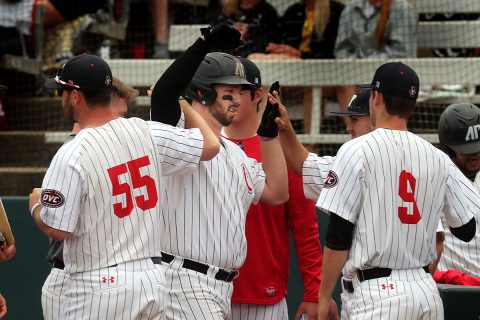 SIUE (16-24, 8-12 OVC) would strike first in Saturday's game, taking advantage of an uneven start by Govs starter Jacques Pucheu.
Shortstop Jordan Ross led off the inning with a double and the Cougars quickly worked to take advantage, using a sacrifice bunt to move Ross to third.
After a walk, SIUE would use another sacrifice, this time by right fielder Dustin Woodcock, to drive in the run and take a 1-0 lead.
However, Pucheu quickly locked in after surrendering the run. He would retire 13 of the next 15 batters he faced and saw the only batter who reached in that stretch wiped out by a double play. Pucheu would stretch his start into the eighth inning where a one-out single would end his day.
Pucheu's performance after giving up the run gave the Govs offense plenty of time to help out their starter and they broke through in the fifth inning. Third baseman Gino Avros opened the frame with a single and quickly advanced to second on a wild pitch.
Second baseman Malcolm Tipler followed with a single through the right side. The Cougars would help the Govs as Avros scored after the SIUE right fielder misplayed the ball. Tipler would later score the go-ahead run after a trio of wild pitches allowed him to move around the bases, giving the Govs a 2-1 lead.
Austin Peay (23-18, 15-8 OVC) would extend its lead in the seventh and eighth innings thanks to Phillips' home runs. His two run blast to right center in the seventh gave the Govs a 4-1 lead. In the eighth, designated hitter John McDonald led off the inning with a home run and four batters later Phillips would add his second two-run homer of the afternoon, extending the lead to 7-1.
Pucheu (6-2) picked up his season's sixth victory after holding SIUE to one run while scattering two hits over 7.1 innings. He would work around five walks while striking out five batters. The Govs bullpen combined for 1.2 scoreless innings, striking out two.
Phillips ended the day 2-for-3 with two home runs, four RBI and was walked twice. Second baseman Malcolm Tipler went 4-for-4 and scored twice. Avros and McDonald also had two hits each.
SIUE starter Kenny Serwa suffered his first loss this season after allowing two runs on five hits and two walks over four-plus innings. The Cougars offense was held to three hits on the day.
Moment That Mattered
After battling through in consistency over the first three innings – throwing 56 pitches in the first three innings – Governors starting pitcher Jacques Pucheu found a different gear after surrendering the game's first run in the third. He would retire 13 of the next 15 batters, allowing only a one-out walk in the sixth that was quickly wiped out by a double play.
The Govs lefty needed just 62 pitches over the final 15 batters he faced to extend his start into the seventh.
Water Cooler Chatter
Phillips Power
With his two home runs in Saturday's contest, right fielder Parker Phillips ended the day with 47 career home runs – 16 this season. It was his ninth career multi-homer game. SIUE became the fifth OVC team to endure a Phillips multi-homer outing.
Walks As Good As Hits
Walks are as good as hits when the bases are loaded and when working on a reached-safely streak. Freshman center fielder Garrett Spain extended his reached-safely streak to 41 games with a seventh-inning walk. He now has the Govs third-longest reached safely streak, moving past Ryan Kane's 40-game streak in 2006.
What The Win Means
With its win and a Belmont loss at Tennessee Tech, Saturday, Austin Peay moved into a tie for first place with Belmont (APSU won the season series). The Govs and Bruins each have seven games remaining and are just one game ahead of Morehead State and Jacksonville State, who play each other Saturday night.
Next Up For APSU Baseball
APSU Baseball and SIUE close out their three-game OVC series with a 1:00pm, Sunday contest at Raymond C. Hand Park.