Memphis, TN – As has become tradition, the Austin Peay State University (APSU) track and field made its way to the Bluff City for the final weekend in April and emerged from the Memphis Tiger Invitational with positive momentum as the calendar prepares to turn to May—championship month in the world of track and field.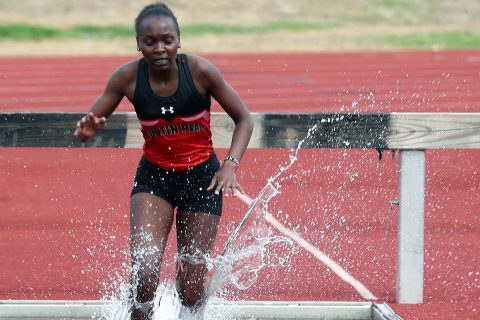 In a meet featuring five other Ohio Valley Conference foes—Murray State, Southeast Missouri, SIU Edwardsville, Tennessee State and UT Martin—the meet also served as a tune-up for the Governors' championship aspirations.
Late on Friday, freshman Kyra Wilder posted a third-place finish in the 200m dash with a 24.50 mark that's one-hundredth of a second off her career-best. She returned Saturday in the 100m and broke the 12-second mark for the first time in her Austin Peay career, placing eighth at 11.97. She was one of three Govs in the top-eight, joining freshman Tiyanna Johnson (fifth, 11.86) and junior Tymeitha Tolbert (sixth, 11.88); Johnson's mark leapfrogged Tolbert by one-hundredth of a second for the team lead and third in the Ohio Valley Conference race.
Saturday was a banner day for sophomore Lennex Walker. For the first time in her Austin Peay career, the Chattanooga native broke the 14-second mark in the 100m hurdles, posting a 13.99 to place third. She's one of just two OVC student-athletes to go below 14 seconds in that event this season and should put her firmly among the top-100 performers in the NCAA East region.
"The first part of Lennex's race was really strong," said head coach Doug Molnar. "She's got a couple of things to clean up in the back half of the race, but she's going to be a contender. It also was great to get Camaryn McClelland back after missing a few weeks. In the 100, it's probably the first time we've had three go below 12 seconds in the same race, which is a testament to that group."
Sabrina Richman and Amelia Thiesing both posted good showings in the 400m dash. Richman took fourth at 56.03, while Thiesing's 57.23 mark was good for sixth. Another top finish belonged to senior Caroline Kiplagat, whose season-best 12:05.39 placed her fifth in the 3000m steeplechase.
Normally a mid-distance dynamo, freshman Mikaela Smith tried her hand at the 400m hurdles and the result was a seventh-place, 1:08.06 mark in her third career attempt in the event. The middle-distance crew didn't miss a beat without one of its strongest runners, with freshman Maddie Morstad taking sixth at 2:20.90.
Over in the pole vault pit, sophomore Morgan Bradley equaled Arkansas State's Nada Buntic first-place effort with a 3.53m mark—it's the first time in her Austin Peay career she has taken the top spot in an event. In high jump action, senior Nia Gibbs-Francis' 1.60m leap tied her for seventh.
To kick off Saturday, the 4x100m relay quartet of Johnson, Tolbert, Wilder and Diamond Battle placed fifth with a 47.58 mark. To end the day Richman, Thiesing, Wilder and Allana Johnson crushed the field in the 4x400m relay with a 3:50.95 run, nearly four seconds ahead of their closest competition.
"The mile relay winning handily is always a fun way to end the day," Molnar said. "Overall, we accomplished what we needed to accomplish this week—we got better, and nobody got hurt."
While Molnar indicated that a very select group of Govs may head to Bloomington for next weekend's Billy Hayes Invitational, most of the squad will rest up and prepare for the 2019 OVC Outdoor Track and Field Championships, which begin May 9th in Cape Girardeau, Missouri.