Clarksville, TN – The Austin Peay State University (APSU) softball team sent the winningest senior class in program history out with a victory Sunday afternoon, April 28th, 2019 at Cathi Maynard Park-Cheryl Holt Field, taking the second game of an Ohio Valley Conference doubleheader versus Eastern Kentucky, 11-3, after dropping the opener, 3-1.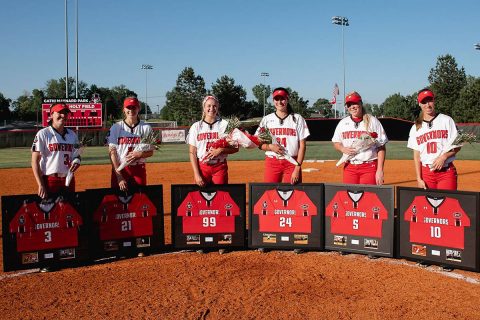 This class of seniors: Natalie Schilling, Kelly Mardones, Morgan Rackel, Carly Mattson, Kacy Acree and Danielle Liermann have been a part of 93 wins in their careers, while posting the first back-to-back winnings seasons in program history since 1988-89.
Game 1
Eastern Kentucky 3, Austin Peay 1
Austin Peay (28-19, 13-5 OVC) took an early 1-0 lead versus the Colonels on a Gross RBI double scoring Lexi Osowski in the bottom of the second inning.
But unfortunately for the Govs, despite outhitting Eastern Kentucky (28-18, 13-5 OVC) 7-2, that would be the only run APSU would push across in the opener, as they left 10 runners on base in the contest – including a base-loaded, no out, chance in the bottom of the sixth inning.
Eastern Kentucky would score all its runs in the top of the sixth inning, with the tying run scoring on an APSU error, with what turned out to be the game-winning runs scored two batters on a two-run homer by EKU.
Rackel (19-5) took the loss – snapping her personal 12-game win streak — despite not giving up an earned run and only two hits while striking out 10.
Game 2
Austin Peay 11, Eastern Kentucky 3
Much like the first game of the day, Austin Peay would jump out early against the Colonels, this time scoring two runs in the bottom of the first inning – highlighted by an RBI double from Carly Mattson, her team-leading 12th double of the year.
The Colonels would answer with three runs of its own in the third inning, to take its only lead of the game, 3-2.
But unlike Game 1 Sunday, Govs hitters continued to drive in runs, scoring three times each in the third, fourth and fifth innings for the 11-3 run-rule shorten contest.
In the third inning, Mattson, Rackel and Osowski all picked up RBIs, with Rackel driving in two more in the fourth with her first triple of the season.
The Govs closed out the game's scoring with Bailey Shorter, Liermann and Rackel collecting run-scoring singles.
Mardones (4-12) picked up the win for Austin Peay, with pitching the final two innings Gross to pick up her third save of the season and becomes the program's all-time saves leader.
Inside the Boxscore
With her two walks versus Eastern Kentucky, Carly Mattson moves into fourth-place all-time in program history with 66 career walks.
In stealing two bases versus Eastern Kentucky, Kacy Acree moves past former Gov Jenny Kelly (2000-03) for fourth-place all-time in career stolen bases in program history, with 39.
With Morgan Rackel's triple versus Eastern Kentucky, the Govs now have six triples this the season, the most in five years by a Govs team.
With her two runs scored versus Eastern Kentucky, Danielle Liermann ties former Gov Laurel Burroughs (2013-16) for ninth-place all-time in program history in career-runs scored with 99.
With hits in both games, Danielle Liermann now has a personal season-long eight-game hit streak.
On the support and turnout of fans for Senior Day
"I can't thank the fans enough for coming out and supporting our six seniors in their last two home games. We've had big and supportive crowds all season long and today was no different and for our seniors to see such a large group turnout to see them play at home for a final time was special."
On bouncing back after a tough Game 1 loss

"I thought we responded well (in Game 2) after losing the first game the way we did. We haven't always done that as well as we would have liked at times during the season, but today we came out after the loss and decided it wasn't going to be two (losses). The thing I really liked about it was that we didn't count on the home run to win the game, we just strung hits together and score our runs that way. We celebrate home runs, but we also celebrate base hits that score runs too."
On exam week and wrapping up regular season
"Our team will be focusing on final exams this week, wrapping up another strong semester in the class room, but we will also be working on staying sharp for next weekend's final two OVC series at UT Martin and SIU Edwardsville. We still have a lot of work to do and we want to be playing our best softball of the year as we head into these final four games and the OVC Championship."