Nashville, TN – History continued for the Austin Peay State University (APSU) women's tennis team, as it won the Ohio Valley Conference Tournament Championship over UT Martin, Sunday, April 28th at Centennial Sportsplex.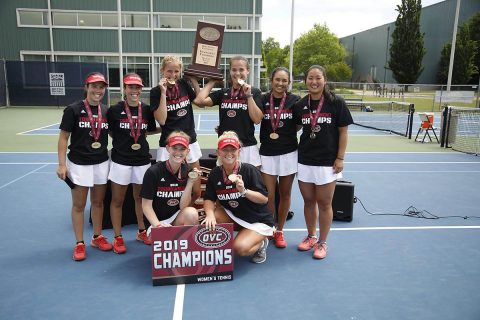 With their first tournament win since 2010, the Governors (22-0, 8-0 OVC) will advance to the 2019 NCAA Tennis Tournament.
Much like the Govs' semifinal opponent in Southeast Missouri, the Skyhawks (7-12, 3-5 OVC) came out strong in doubles, claiming early breaks at the No. 1 and No. 3 doubles spots. However, Fabienne Schmidt and Danielle Morris fought back from down from 4-2 to win four straight games and claim a 6-4 win.
At No. 2 doubles, Lidia and Claudia Yanes Garcia went up 3-1, but saw their opponents force three deuces in four games. The twins came up clutch, winning two of those deuces en route to a 6-2 win, giving the Govs a 1-0 lead going into singles.
The Govs, like they have done all year, dominated the singles portion of the match. The Govs won the first set in five of six matches, putting themselves in a great position. Schmidt, who won in singles in last season's OVC title match, was the first Gov off the mark. The German swept her opponent aside for a routine 6-1, 6-2 victory, putting the Govs up 2-0.
Lidia Yanes Garcia, who was the first Governor tennis player (male or female) to reach 100 career wins in the OVC Semifinals, followed that up with a 6-2, 6-0 victory at No. 2 singles. The senior will enter the NCAA Tournament with a 13-match win streak.
Tatiana Lopez took control early in the second set of her match at No. 3 singles after already taking the first set. Up 5-1 and on a double match point, Lopez and her opponent hit a couple of shots back and forth before the moment arrived. Lopez queued up for another return, but her opponent sent the ball into the net, as Lopez was rushed by her teammates to celebrate Austin Peay's first OVC Tournament Championship in nearly a decade.
The Govs will savor the title, but will play in the first round of the NCAA Tournament on either next Friday or Saturday. The Govs find out their first-round fate with the NCAA Tennis Selection Show, which will be livestreamed, 5:30 p.m., tomorrow, on NCAA.com.
Box Score
Austin Peay 4, UT Martin 0
Doubles
1. Tatiana Lopez/Honoka Nakanishi (APSU) vs. JUMAMUKHAMBETOVA,/POTTER, Jemima (UTM) 3-5, unfinished
2. Claudia Yanes Garcia/Lidia Yanes Garcia (APSU) def. PRATT, Daphne/SAKURAI, Mizuki (UTM) 6-2
3. Fabienne Schmidt/Danielle Morris (APSU) def. PLANTADA, Andrea/CAMPBELL, Amelia (UTM) 6-4
Singles
1. Claudia Yanes Garcia (APSU) vs. JUMAMUKHAMBETOVA, (UTM) 3-6, 6-1, unfinished
2. Lidia Yanes Garcia (APSU) def. POTTER, Jemima (UTM) 6-2, 6-0
3. Tatiana Lopez (APSU) def. PRATT, Daphne (UTM) 6-1, 6-1
4. Fabienne Schmidt (APSU) def. CAMPBELL, Amelia (UTM) 6-1, 6-2
5. Helena Kuppig (APSU) vs. PLANTADA, Andrea (UTM) 7-5, 0-4, unfinished
6. Danielle Morris (APSU) vs. SAKURAI, Mizuki (UTM) 7-5, 2-0, unfinished
Order of finish: Doubles (3,2); Singles (4,2,3)