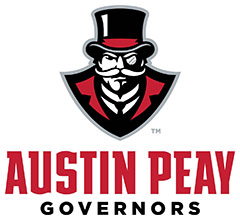 Indianapolis, IN – The NCAA released Wednesday, May 8th, that five Austin Peay State University (APSU) intercollegiate athletic teams posted their best-ever multi-year Academic Progress Rate (APR).
The NCAA released the complete four-year APR rates for 14 of Austin Peay's teams—beach volleyball, in its third season, is still building an APR while indoor and outdoor track and field were combined into one data sport-group in 2015. Baseball (985) posted its best-ever APR for the fifth year in a row, increasing from 949 after the 2013 season to 985 via the 2017-18 data.
Meanwhile, a quartet of Austin Peay programs were honored by the NCAA with the Public Recognition Award last week for landing in the top-10 percent among their respective sports.
APSU Programs Honored by NCAA
The women's golf team earned the award for a seventh consecutive year;
The volleyball team earned the award for a fifth consecutive year and sixth all time;
The women's cross country team notched its fourth-straight award;
The women's tennis program earned its third-straight recognition.
All four programs scored a perfect 1000 Academic Progress Rate.
In addition to four perfect scores, five other programs improved in year-to-year APR, with men's golf (967) making the biggest improvement with a plus-seven showing. Seven Austin Peay programs have seen their APR improve since 2014-15, while three others have maintained a perfect 1000 throughout that time.
"The success we've achieved academically isn't down to just one individual or group of individuals," APSU Director of Athletics Gerald Harrison said. "Thanks go to our coaches, who have emphasized academics as part of the 'Total Gov' concept, to Katie Ethridge and her team in academic services for putting a plan in place to make sure our student-athletes are successful and of course, the student-athletes themselves for putting in the hard work of double-majoring—in academics and Division I athletics."
Every Division I sports team across the nation calculates its APR each academic year, similar to a report card. Scholarship student-athletes each semester earn one point for remaining eligible and one point for staying in school or graduating.
The 2017-18 overall four-year rate is 982, maintaining last year's mark and one below the program-high 983 in 2015-16. Austin Peay's last three institutional APR's have been in the 980s, and the department as a whole has not been below 970 since 2009-10.
Rates are an average of each school's performance for the last four years. National aggregates are based on all teams with usable data at the time of analysis. APRs for each team, lists of teams receiving public recognition and those receiving sanctions are available online through the NCAA's searchable database.