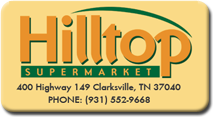 Clarksville, TN – On Friday night, May 3rd, 2019, Hilltop Supermarket kicked off their 2019 Dwayne Byard Memorial BBQ Cook-Off with a party, food, live music and the 2nd annual Country Kids Cook-Off. The weather was really nice despite rain earlier in the day and an overcast sky.
"The weather has been excellent. Considering what it's been calling for all week and the cloud cover today, it was absolutely excellent," stated Cody Jackson, Hilltop Supermarket. "There has not been a rain drop yet. The Lord blessed us today."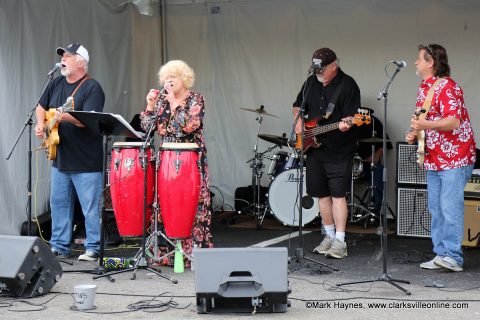 There was BBQ, ribs, etc, available for purchase. Everyone had a good time listening to music by The Beagles while eating their BBQ.
An auction was held with items donated by businesses and people in the community. Some of the items included a fire pit, 4 tires donated by 1 Stop Motorsports, a quilt, items from Ajax Distributing and more.
Kids between 7 to 17 years of age could sign up for the cook-off. The kids cooked two ribeye steaks and two pork chops anyway they liked for the judges. Trophies were awarded for 1st, 2nd and 3rd place winners.
This years contestants were Blake Bowers, Dylan Byard, Kenneth Magness, Austin Alberd, Jeremy Elliott, Hunter Lannom and Carson Weimer. The judges were some of the competitors for Saturday's cook-off.
Once the judges scored were tallied, it was time to announce the winners.
For the steak category, 3rd place went to Carson Weimer. 2nd place was awarded to Blake Bowers. The 1st place winner was Austin Alberd.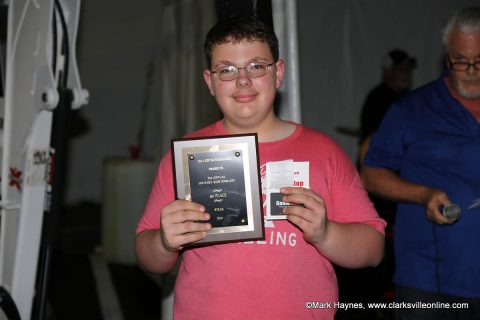 In the pork chop category, it was Blake Bowers coming in 3rd. 2nd place went to Austin Alberd. The winner of the pork chop category was Dylan Byard.
"Winning tonight felt good. I just try to cook it right and cook it as close to temperature as I can. That's about it," said Austin Alberd. "I really quite like this event. It's pretty fun, relaxed, and easy to do."
"Winning today was just crazy. This is just the second time that I've cooked for a contest," stated Dylan Byard. "It really felt good to win."
I think the event went really well. The kids all had a smile on their faces," Jackson stated. "I don't think they really cared where they placed. They just had a joy cooking with some of the barbequers out here and filling like one of the big boys out here. I think they had a great time."
All proceeds from the event goes to the Dwayne Byard scholarship fund for his grandchildren.
This year's sponsors are Morgan Inc., K-5 Trucking, Dennis Herrel Stump Grinding, F&M Bank, Deanna Smith Hair Design, Keese Roofing, Jackson Body Shop, MSC Inc.,1 Stop Motorsports, AR Fence, Action Air, Wyatts Body Shop, Jimmy Miller Construction, Ajax Distributing, Lafferty Construction, Keel Trucking, Planters Bank, Cumberland Bank & Trust, Hilltop Pharmacy, Binkley Automotive and Alignment, Mark Davis Trucking, Satellite Electronics, Grandmas House, Bobcat of Clarksville and Associated Wholesale Grocers.
"We're really thankful for everyone that came out tonight. This is all in Dwayne's memory. He loved this event and he loved being apart of this community," Jackson commented. "It's just a testament to how great this community is. The way everyone shows up to something like this. The BBQers love it. It's a great thing the community does coming together for this."
Photo Gallery
About Hilltop Supermarket
Hilltop Supermarket is located at 400 Highway 149, Clarksville TN. From Clarksville, you would take Hwy 48/13 south across the Cumberland River, turn right on highway 149, and Hilltop Supermarket is located on the left at the top of the hill next to Freds. Hilltop Supermarket serves the grocery needs of the southern Montgomery county area.
Visit their website at: www.hilltopsupermarket.com