Clarksville, TN – The Austin Peay State University (APSU) men's basketball team adds guard Carlos Paez from Caraboba, Venezuela.
A 5-11 point guard with slick handles and impeccable court vision, Paez has been a staple on the international scene for some time.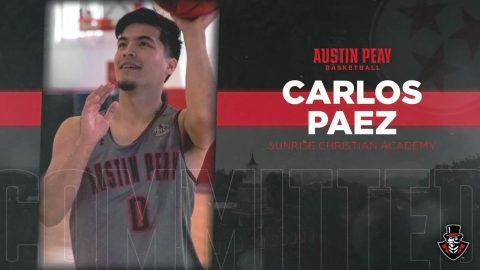 He represented Venezuela on its U14, U16 and U18 national teams, with the latter ranked 42nd in the world and 10th in the FIBA Americas standings in the most recent rankings compiled in December 2018.
He played an integral role for his country at the 2015 FIBA Americas U16 Championships, leading Venezuela in steals (12) and assists (13) while averaging 9.4 ppg in five games at the Argentina-based event, which also featured current Governor Matheus Silveira on the Brazilian roster.
Since then, Paez has matriculated at Sunrise Christian Academy in Bel Aire, Kansas, helped by former NBA guard Greivis Vasquez's foundation dedicated to helping Venezuelan basketball players find a school in the United States to ensure academic success and national athletic exposure.
Paez has made the most of the opportunity, improving his stock not just in game situations but by breaking into a guard rotation featuring high-major commits Shereef Mitchell (Creighton) and Damerius Wash (Kansas State). He's also generated interest through the Basketball Without Borders program, earning the first-ever invite for a Venezuelan at the 2017 camp in the Bahamas and making a return trip to the 2018 program in Los Angeles; he was an All-Star at the 2017 camp and won the 3-point contest.
Since coming to the states, Paez impressed on the AAU circuit with MoKan Select, turning heads at the Nike Peach Jam Invitational during the summer of 2017.
"Carlos has been involved with winning at a high level at Sunrise," said Austin Peay head coach Matt Figger. "His coach at Sunrise trusted him as much as anybody he had on that team, to have the ball in his lands and lead the team. They couldn't win without him. He's got a really good pace and tempo about his game. He sees the court, is a really good passer and plays well in the pick-and-roll. He's very vocal on the court; we'll be looking for leadership from him in the future."