Clarksville, TN – Hailie Latham was recognized by the Clarksville Police Department in front of her classmates at Moore Magnet Elementary School for her decisive actions during an emergency situation.
On March 30th, 2019, around 9:24am, Hailie Latham was a passenger in a Ford F150 traveling south on Rossview Road when her mother, Carolyn Latham, lost consciousness.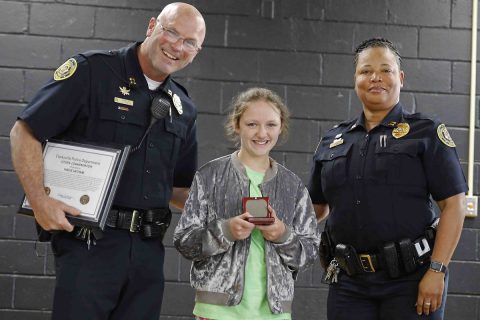 The uncontrolled truck crossed to the oncoming northbound lanes of Rossview Road and then back across the southbound lanes, left the roadway, and struck a sign.
The truck was heading back toward the roadway into oncoming traffic when Hailie jumped in to action. She removed her unconscious mother's leg from the gas pedal and turned off the ignition switch which prevented the car from continuing onward.
Hailie's cool, calm demeanor and quick thinking prevented a potentially deadly situation from coming to fruition.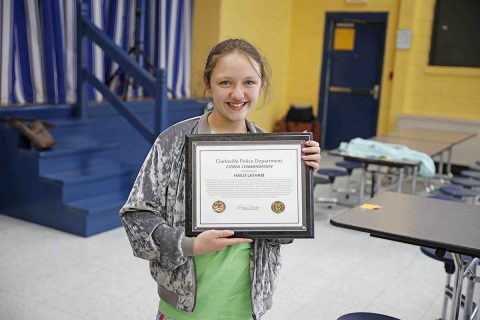 She showed a maturity and ability to handle an emergency situation in a manner far exceeding her years. Her braveness and heroic actions were instrumental in averting a potential disaster and motor vehicle collision on a heavily traveled and busy roadway.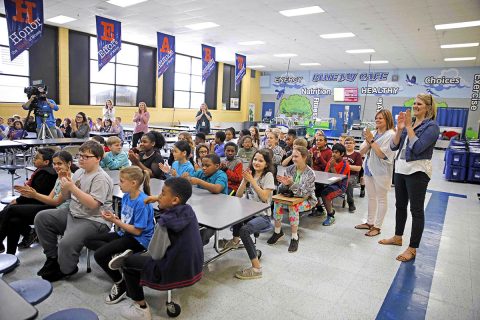 This is the first time Hailie's classmates were fully made aware of her actions and gave her a resounding round of applause and showed her a lot of Moore Magnet Elementary School love. Hailie was given a Clarksville Police Department Citizen Citation and a Departmental Coin by Captain Liane Wilson and Captain James Smith
Great job Hailie Latham!!!