Clarksville, TN – Eli Abaev, with the Austin Peay State University (APSU) men's basketball, will spend August in Budapest, Hungary as part of the 15th European Maccabi Games, representing Maccabi USA in Open Men's Basketball competition.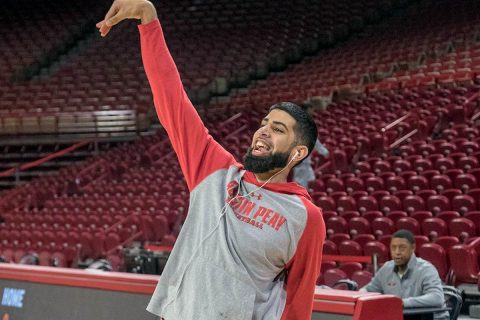 Abaev will be joined by student-athletes from Harvard, Yale, Manhattan and Penn, among others, as well as some post-grads.
The rising redshirt junior is no doubt eager to see live action after sitting out all last season with a lower-body injury; when healthy, he is a rangy wing who can rebound and score, as evidenced by his 9.1 ppg and 9.8 rpg in his final season at Eastern Florida State College prior to joining the Govs.
The European Games are a high-level athletic competition for Jewish athletes all over the world aimed at connecting Jews from the Diaspora. They are hosted by the European Maccabi Confederation and conducted in cooperation with Maccabi World Union. They are held every four years, two years after the Maccabiah is held.
Maccabi USA builds Jewish pride through sports, generating the emotional intensity, high ideals, and powerful camaraderie of competition. The program connect athletes, volunteers, and supporters with the global Jewish community. Its athletic, educational, and cultural experiences are designed to build Jewish identity, perpetuate Jewish continuity worldwide, and strengthen support for the State of Israel.
"It's great for him because he missed all of last year," said Austin Peay head coach Matt Figger. "It'll be great to kick the rust off and play a high level of international basketball. It'll help our team and help him get adjusted to playing live basketball again."
The 15th European Maccabi Games run from July 28th-August 7th, 2019.