Clarksville, TN – This fall, a Biometrics and Clinical Trials Operations Certificate will be offered exclusively through the Austin Peay State University (APSU) Department of Mathematics and Statistics. Nfii Ndikintum, vice president of Clinical Affairs and Biometrics at AtriCure will be serving as the lead instructor.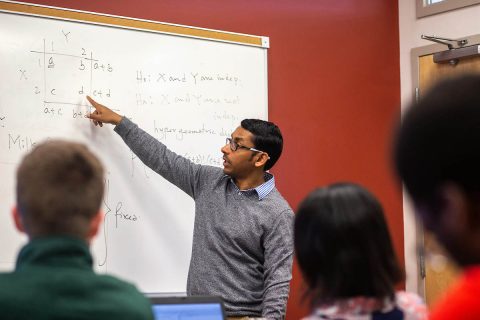 Ndikintum has a Ph.D. in statistics, and after struggling to find employees with the proper training, he developed this 12-hour graduate certificate.
When Ndikintum interviews job candidates, he's impressed when they have a degree in statistics. If the applicant has a certificate in biometrics, Ndikintum will probably offer them a job.
"It makes them more competitive," he said. "If I were interviewing two students – one has a master's degree in statistics and the other has a master's degree in statistics, but in addition, they have been exposed to how we actually work in the industry, guess who I'm going to pick?"
"To the best of my knowledge, there is no certificate like this in the nation," he said. "Biometrics includes a lot of disciplines – statistics, statistical programming, medical writing – and we're combining that together into one program. There are tremendous job opportunities for students with this training."
The new program is designed for professionals who have already earned a bachelor's degree and would like to earn a graduate credential while building skills in biometrics and clinical trials operations.
The online certificate can be earned in as little as two semesters, and students interested in continuing their education will be able to transition directly into the Austin Peay State University's Master of Computer Science and Quantitative Methods degree program. The certificate classes will count as four of the 11 courses required for that graduate degree.
Upon completion of the Biometrics and Clinical Trials Operations Certificate, students will be able to:
Understand the elements of protocol development
Design a clinically sound study
Understand regulations and learn to communicate effectively with regulatory agencies
Review and understand the key statistical methods used in clinical trials
Develop skills to successfully work in cross-functional teams
Gain the requisite skill to work in the pharmaceutical, biomedical and medical device industries.
"When I interview people, I'm not just interested in the classes you took in school," Ndikintum said. "I'm interested in knowing these students are able to interact with the FDA, with other regulatory agencies outside the country, like in the EU. I'm also interested in knowing this student knows something of project management."
For information on the certificate program, visit https://www.apsu.edu/grad-studies/graduateprograms/biometrics_clinicaltrials.php.