Clarksville, TN – Clarksville Police Department Deputy Chief Michael Parr is retiring after 35 years in law enforcement. Deputy Chief Parr was hired with the Clarksville Police Department, February 16th, 1984.
He moved through the ranks selected as Sergeant in 1987, Lieutenant 1995, Captain 2002, and Deputy Chief in 2008.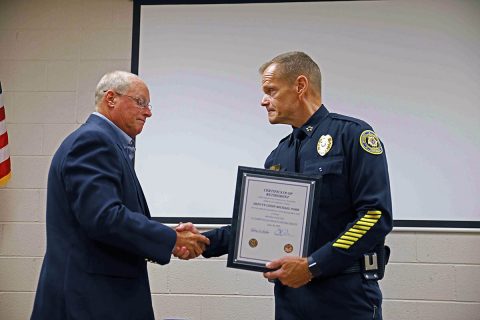 Deputy Chief Parr served in many roles during his tenure at the police department working in patrol, detective division, and special operations unit as well as serving on the Crisis Negotiator Team and Crime Scene Teams.
He was a graduate of the Northwestern Police Staff and Command Class (Class 198) in 2004 and graduated from the FBI National Academy in 2009 (Session 239).
The room was filled with family, friends, coworkers, and dignitaries saying good-bye and wishing him the best of luck in the new chapter of his life.
Photos