Clarksville, TN – The Tennessee Wildlife Resource Agency (TWRA) partnered once again with Clarksville Parks and Recreation to host its annual Youth Fishing Rodeo at Liberty Park.
TWRA's Nate Thompson talked about the event and why it's important to his agency and the community it serves.
"TWRA has been doing this for at least 15 years, that's longer than I've been here," Thompson said. "This year we have at least 200 kids signed up. Today's rodeo just gives them that fishing experience, and for many of them, it's their first time."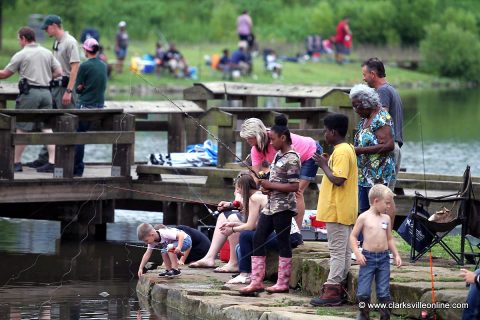 Thompson says that for the event, Liberty Park lake was stocked with 1,500 pounds of hungry catfish. No fishing is allowed the week prior to the Saturday event, which coincides with the state-wide free fishing day.
"I think the experience of actually catching a fish is a pretty great feeling for a kid," Thompson said. "We have water, snacks and prizes out here for all the participants, and we just try to make it a really fun day for everyone."
Thompson says that Walmart helps a lot with money and prizes. Woodlawn's Bowles Wholesale Bait donates all the fishing worms, and It's Time Clock Shop provides all the trophies for the winners.
"Then, we (TWRA) and Clarksville Parks and Recreation handle the rest," Thompson said. "Parks and Rec does all the infrastructure, and they are a tremendous help. The kids can win fishing poles, life jackets, coolers, tackle boxes, sports equipment, and outdoor chairs. We're just trying to encourage them to be outside."
For Biggest Fish, and Smallest Fish, boys and girls competed against each other. In the Most Weight competition a trophy was given to the winning boy, and the winning girl. Competitors were allowed to bring their five biggest fish to the weigh station.
Their were four winners who took home trophies from this year's friendly competition: Ethan Duffie – Smallest Fish, Keshia Mulllins – Biggest Fish, Ardin Lopez – Most Weight (Male), and Katrina Yingling – Most Weight (Female). In addition to the trophies, winners received $50.00 or $100.00 gift cards and other prizes.
Clarksville Parks and Recreation's Rob Rayburn commented on the activities of the day.
"This is a great opportunity for us to work with our friends at TWRA," Rayburn said. "Working together, we get to bring out the youth on Free Fishing Day. This event really fits with our department's goal of getting kids from the community to come out and enjoy our parks. TWRA is an amazing partner to work with, and thanks to them and their sponsors, this is all free for the kids."
Photo Gallery