Greenboro, NC – Parker Phillips, alumnus with Austin Peay State University baseball, continued to earn attention for his record breaking campaign with his recognition to the 2019 ABCA/Rawlings NCAA Division I All-Region Teams, Wednesday. Phillips was a First-Team All-South selection as voted on the by the region's head coaches.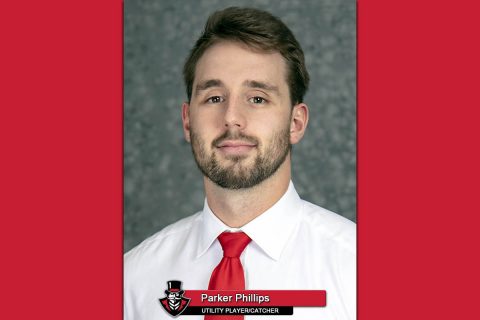 The honor follows Phillips' earning First-Team All-OVC honor this season and following it with OVC All-Tournament recognition.
The redshirt junior ended the Govs' 2019 campaign leading the OVC with 25 home runs and a .732 slugging percentage and tied for the league lead with 64 RBI. Among Division I players, prior to the College World Series' start this week, Phillips ranked second in home runs, 10th in slugging percentage and 35th in RBI.
Phillips, from Collierville Tennessee, broke both the Govs single-season and career home run marks during the 2019 season. His 25 home runs this season easily outpaced the previous record of 19 home runs which he tied in 2018. Phillips also put the career home run mark behind him, ending the season with 56 homers. His home run totals from 2018 and 2019 alone would have set the Governors career mark and he is now the only Govs hitter to record three 10-homer seasons during their career.
A 27th-round pick by the Minnesota Twins in the 2019 MLB Draft, Phillips was earlier named a Second-Team All-American by Collegiate Baseball. He now is a nominee for ABCA/Rawlings All-America teams, which will be announced Saturday, June 15th, 2019.
The ABCA, founded in 1945, is the primary professional organization for baseball coaches at the amateur level. Its 11,000-plus members represent all 50 states and 23 countries. Since its initial meeting of 27 college baseball coaches in June 1945, Association membership has broadened to include eight divisions: NCAA Division I, II and III, NAIA, NJCAA, Pacific Association Division, High School and Youth.