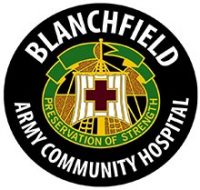 Fort Campbell, KY – On June 17th, 2019 at the Fort Campbell Family Resource Center, Tennessee-native Col. Patrick T. Birchfield assumed command of Blanchfield Army Community Hospital (BACH) and the U.S. Army Medical Department Activity Fort Campbell during a change of command ceremony.
Birchfield replaced Col. Anthony McQueen, who led efforts to transform BACH's medical support to units from the 101st Airborne Division (Air Assault) and Fort Campbell, enabling the medical readiness of more than 90 percent of their Soldiers for deployment, and providing access to care for more than 73,000 beneficiaries.
"It was a true honor to support the medical readiness of the 101st and Fort Campbell Soldiers, helping them prepare for their next rendezvous with destiny," said Col. Anthony McQueen, outgoing commander.
During his tour McQueen oversaw significant expansion of the MEDDAC Fort Campbell mission with the addition of medical facilities at Rock Island Arsenal, Illinois and Fort McCoy, Wisconsin, where his team established a medical Soldier Readiness Processing site capable of simultaneously providing military hospital and clinic expansion, augmentation, blood donor services, dental and veterinary services while remaining postured to provide assistance to civil authorities during an emergency or disaster.
When activated, medical SRP sites are capable of processing hundreds of Soldiers per day to ensure they are quickly ready for their follow-on mission.
"The team at Blanchfield not only supports the 101st and Fort Campbell Soldier readiness mission, but during my command, we also stood up and oversaw the readiness mission at Fort McCoy, providing National Guard and Reserve Soldiers the same quality medical readiness care and support afforded to our active duty Soldiers," said McQueen.
"This mission enabled more than 12,000 Soldiers to be medically ready to support their warfighting mission and 24,000 Soldiers to receive troop medical care services. Helping lead such a dedicated and committed team at Blanchfield will continue to be a major highlight in my Army career," McQueen stated.
McQueen will continue to support the readiness of Soldiers in the Army at his next assignment at the office of the Army Surgeon General where he will serve as the director of healthcare operations. He leaves Birchfield to oversee BACH's transition from an Army Medicine managed military treatment facility to the Defense Health Agency.
"As the higher authority of Blanchfield shifts from Army Medicine to the Defense Health Agency, we will continue to ensure our patients receive the same safe, quality medical care and compassion they have seen in the past. We will also work to expand our network services in medical capabilities we cannot support locally. Our goal is to ensure both the Soldier and their families are prepared for what lies ahead of them," said Birchfield, Blanchfield Army Community Hospital commander.
Birchfield graduated with a Bachelor of Science degree in Biology from The University of Tennessee at Chattanooga in 1995. He served as an airborne treatment platoon leader and company executive officer with the 261st Area Support Medical Battalion at Fort Bragg, North Carolina.
In 2002, Birchfield received his Doctor of Osteopathic Medicine degree from the Kansas City University of Medicine and Biosciences. He completed a transitional internship at Dwight D. Eisenhower Army Medical Center in 2003, and in 2004 earned a Master of Public Health degree from the University of Texas Medical Branch at Galveston.
Col. Birchfield completed his Aerospace Medicine Residency at the Naval Operational Medicine Institute in 2006 and in that same year became board certified in Aerospace Medicine from the American Osteopathic Board of Occupational and Preventive Medicine. From there he served as the battalion flight surgeon for the 6-101st Aviation Regiment.
During that time, he served a year in Afghanistan as the Task Force Shadow flight surgeon stationed at Bagram Air Base. From 2009 until 2011, he served as the Brigade flight surgeon for the 101st Combat Aviation Brigade during which time he served as the Task Force Destiny flight surgeon for a year at Kandahar Air Base in Southern Afghanistan.
In 2011 he became only the third ever Medical Corps small group instructor for the Army Medical Department Captains Career Course, Fort Sam Houston, Texas. He then served as Chief of Aeromedical Consultation at the U.S. Army Aeromedical Activity Fort Rucker, Alabama and was Troop Commander at BACH from 2015 to 2017. His most recent assignment was Deputy Commander for Clinical Services for Fox Army Health Clinic at Redstone Arsenal, Alabama.
"Getting to return to Fort Campbell and serve as the commander of Blanchfield Army Community Hospital is an honor as I am following behind great leaders who have laid the groundwork of a successful medical facility. The medical team provides excellent care to our Soldiers, retirees and family members," said Birchfield. "I look forward to continuing to expand our relationships within the Fort Campbell and extended communities and building upon the partnerships in place to support our beneficiaries' medical needs."