Nashville, TN – According to data released by the Tennessee Department of Labor and Workforce Development (TDLWD),Tennessee's statewide seasonally adjusted unemployment rate for May 2019 inched up slightly to 3.3 percent after remaining at an all-time historic low for three consecutive months.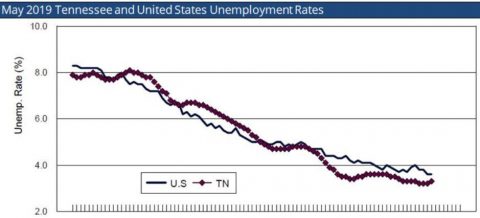 May's preliminary rate of 3.3 percent is 0.1 of a percentage point higher than the previous month's rate. Since February, unemployment across the state had held steady at a record 3.2 percent.
When comparing year-to-year statistics, the current rate is 0.3 of a percentage point lower than it was in May 2018.
"It's natural to experience a fluctuation in unemployment rates," said TDLWD Commissioner Jeff McCord. "Fortunately, Tennessee has not seen much movement recently. While the rate did increase in May, the increase is minimal and still indicated we have a strong economy across much of the state."
Total nonfarm employment in Tennessee grew by 3,900 jobs between April and May. The most significant amount of growth occurred in the accommodation/food services and nondurable goods manufacturing sectors.
In a year-to-year comparison, employers created 47,400 nonfarm jobs between May 2018 and May 2019 with the leisure/hospitality, trade/transportation/utilities, and manufacturing seeing the most jobs added.
Nationally, the unemployment rate remained unchanged at 3.6 percent, mirroring April's national rate and marks a 0.2 of a percentage point drop to the same time last year.
You can find a complete analysis of the May 2019 unemployment rate for the state of Tennessee here.
Tennesseans searching for new employment can log on to Jobs4TN.gov, the state's workforce development website. It has over 150,000 active job listings, as well as free online resume assistance, job interview skills training, and other best practices to help with job searching.