Nashville, TN – I've been thinking a lot about what it takes to bring people into the movement to end homelessness. How do we on the inside bring people with limited or no understanding of complex issues into a conversation that debunks the myths surrounding poverty and mental illness?
It wasn't the stats or the "success stories" that got me into this work. It was seeing the common humanity and the brokenness of the system. It was meeting people on the street in desperate situations and being broken over their trauma and blown away by their humor.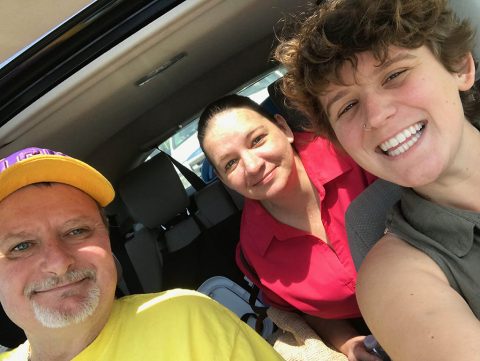 I tend to over explain things, to work too hard to make sure people see the whole picture when the truth is it was relationships that brought me in and that keeps me here. So I've been thinking a lot about our friends Paul and Tara who've encouraged me to help them tell their story.
For me, it began with a text message on Friday February 1st, 2019 at 3:21pm.
"My name is Paul and my wife's name is Tara. Social Security cut my wife's check and we can no longer afford our rent. We were wondering if you could help us get an apartment…I'm disabled…have a feeding tube, I'm terminal… Is there anyway you could help us, I don't think we would last long homeless."
I soon learned that Paul and Tara were around for the creation of Open Table Nashville. They had moved to Nashville after Hurricane Gustav and ended up homeless. Paul sums up the circumstances as, "I got sick, couldn't work, the money runs out. But it's more work being homeless than anything I ever did and I worked in the oil field."
They were residents at Tent City, a large homeless encampment just outside downtown Nashville, housed by OTN co-founder Lindsey Krinks when she worked at another agency, and married by OTN co-founder Jeannie Alexander. Since being housed by Lindsey, they had secured their own housing and disability income and maintained their apartment for more than eight years. During this time, Paul fell severely ill and was placed on hospice care.
When I met them, Paul had one less lung, Tara had one less kidney, and they'd added a sweet kitty to the mix. They lived in an apartment in Madison where they were both navigating serious illness: Paul was on and off hospice care which took a major toll on Tara's mental health. Through it all they made their apartment into a home even while living on a fixed income, building a community around themselves in Madison and being present in the lives of their children and grandchildren.
And then the apartment complex was sold.
Anyone that works in the housing system in Nashville knows this is terrifying news. Residents of the complex found out from a note attached to their doors after it was already a done deal. The note said that the new management would work to make it a better place to live, but soon after, everyone with a rental subsidy like Section 8 was forced to move out after they stopped accepting vouchers.
In 2011 when they moved in, they were paying $525.00 per month. By the time the complex sold in late 2018, that had slowly increased to $600. By the time I met them in February of 2019, they were paying $838.00 and were told it would increase another $100.00 per month in October. With all of the medications Paul was on for his health, that amount didn't leave them able to afford food and transportation to their doctors appointments.
At the start of their time in the apartment, Paul and Tara were paying 44 percent of their income, and by the end they were paying 71 percent. The Department of Housing and Urban Development (HUD) defines "affordable housing" as being around 30 percent of your income.
Luckily, right around the time I met Paul and Tara, several wait lists for income based housing for folks with disabilities opened up for the first time in years. Since it hardly ever happens, there is no predicting how long people will be on the wait lists. We tried to stay hopeful as they didn't qualify for many other services because they were not technically homeless.
In May—three months after Paul had first texted me—we got a call back from Vine Hill Towers asking for them to come in for an interview. After several more weeks of being asked to jump through a dozen more hoops, they were offered keys to their own income based apartment!
Since moving in, they've kept in touch with and pestered their apartment manager to call me immediately with any other openings she may have so I can get more of our friends in off the street. They're embracing the community vibe of their new home, playing pool in the community room, exploring the green space, and making friends with folks that want to get to know their sweet kitty.
Now they are paying 33% of their income on housing, leaving them plenty of income to access food, medical care and transportation.
While this story wraps up with a happy ending, not all of our stories do. A lot of folks come to the attention of the OTN team once it's already too late: the eviction has gone through, ruined their rental history, and left them on the street. This is the version of the story that I hear way more often than the one where they end up in stable housing.
The reality is, this is happening to households all across the city under the surface and under the shadow of "progress and development". This is why we need more of you to join us at the table, to bear witness, to say that this will stand in your city and that you believe that Nashville can and should do better by its people.