Clarksville, TN – Dr. Somaditya Banerjee, history professor at Austin Peay State University (APSU) went to London, England, in May to accept the Mahatma Gandhi Leadership Award.
The Non-Resident Indian (NRI) Welfare Society of India presented Banerjee the award May 20th, 2019 at the House of Commons during the NRI World Congress.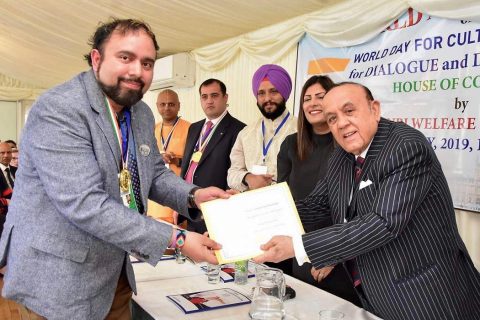 The award recognized about 20 of about 25 million non-resident Indians (NRIs) for outstanding service, achievement and contributions.
NRI has had the program since 1981, but this year's ceremonies spanned two days and took on added importance celebrating the 150th birthday of Mahatma Gandhi.
"The non-resident Indians, at least a majority of them, are connected to India by traveling, by investment, by their families," Banerjee, who grew up in Calcutta, India, and moved to the United States in 2002, said. "They have basically carved out a space for India in the international world. The identity of India in the international world is more prominent through the lens of NRIs than it was before."
Banerjee received his award on the banks of the River Thames from Preet Gill, a member Parliament of the United Kingdom.
Stories Of Challenges, Acceptance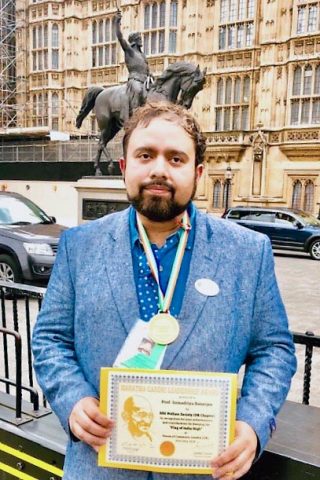 One of the highlights of the ceremony was a few honorees talking about the challenges they faced after they moved from India to new countries to pursue careers or education.
"The talked about how life was really tough for them when they started out in their trajectories of life and that didn't stop them from moving forward," Banerjee said. "They grappled in society and sometimes it was tough, but they moved through those times.
"Some of the bigger points of these stories was they would not be where they were without some nurturing in the host country."
Banerjee has a similar story.
"When I first came to America (to pursue a physics master's at the University of Arkansas in 2002), a family helped me," he said. "They basically became my American mom and dad. They went out of their way to help me. They made me feel at home. We're still in contact."
From Physics To History
Banerjee is assistant professor in the APSU Department of History and Philosophy, but he started his academic career in physics, earning a bachelor's in physics from St. Xavier's College in Calcutta, India; a master's in physics from the University of Pune in India; and a second master's in physics from the University of Arkansas.
While at Arkansas, he met Daniel Kennefick, an astrophysicist and historian who was the editor of
The Collected Papers of Albert Einstein
at the California Institute of Technology.
"He was teaching and gave a talk on the history of gravitational waves," Banerjee said. "That was the nirvana moment for me when I thought studying history of science was slightly more interesting than what I was doing in physics.
"You see a lot of equations magically popping up in physics, and I really wanted to explore the debates that went on surrounding these equations," he added. "Dan's talk moved me into that direction, to Albert Einstein and the debates unfolding around relativity."
From there, Banerjee earned a third master's, this time in history of science and technology from the University of Minnesota before earning his doctorate in history from the University of British Columbia.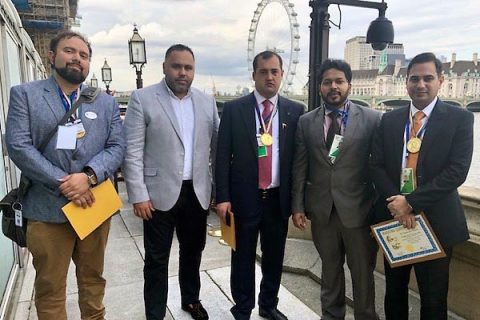 "Making a career switch from physics to history has transformed me as an individual and a leader in my profession," Banerjee said.
Winning the Mahatma Gandhi Leadership Award solidifies Banerjee's decision to switch.
"I am honored and humbled to receive this award," he said. "I feel this is an encouraging sign for the discipline of humanities and its future prospects."
Banerjee joined the Austin Peay State University Department of History and Philosophy in 2017.
To Learn More