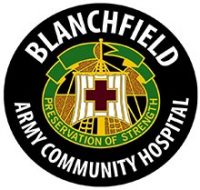 Fort Campbell, KY – On June 25th, 2019, the commanding general of U.S. Army Forces Command, General Michael X. Garrett, visited Blanchfield Army Community Hospital (BACH) to discuss how the hospital's transition to the Defense Health Agency will impact Soldier medical readiness on Fort Campbell and medical care for service members, retirees and family members enrolled at the facility.
The National Defense Authorization Act of 2017 called for transitioning the management of the three separate military health systems of the Army, Navy and Air Force to one, managed by a single Defense Health Agency. Blanchfield's transition from an Army Medicine managed facility to DHA is scheduled for October 1st.
"For our beneficiaries, the change should be seamless. Hospital administrators are the ones who are going to do all the hard work of making those administrative transitions, but for the community, it should be seamless," said Col. Patrick T. Birchfield, BACH and U.S. Army Medical Department Activity Fort Campbell commander, in a joint brief to Garrett with Maj. Gen. Brian Winski, 101st Airborne Division (Air Assault) commander.
As FORSCOM Commander, Garrett's mission is to train and prepare a combat ready, globally responsive total force in order to build and sustain readiness to meet combatant command requirements.
Blanchfield supports that effort by enabling the medical readiness of nearly 27,000 Soldiers from the 101st Airborne Division and Fort Campbell. Blanchfield also established and maintains oversight of the medical Soldier Readiness Processing Site and a Troop Medical Clinic at Fort McCoy, Wisconsin, capable of supporting large scale Reserve mobilizations.
When activated, the medical SRP site is capable of processing hundreds of Soldiers per day to ensure they are quickly ready for their follow-on mission.
"Efficiency is a big part of what DHA is after, improving efficiencies across all three of the services. We think that directly relates to improving the deployability of our forces and enhancing patient access," said Birchfield.
Garrett also asked about the transition's impact to the Fort Campbell community's retired military population.
"The retiree population is large, but if we're able to maintain the same capabilities it shouldn't have to affect the retiree population," said Birchfield. Nearly 16,300 retirees and their family members and 30,000 family members of active duty Soldiers are enrolled at Blanchfield.
Under the transition, the hospital's mission will remain the same — to support medical readiness of warfighters, provide medical care for their families and all patients seen at Blanchfield.
After the assessment, Garrett said he felt confident in Winski's and Birchfield's ability to keep the Soldiers from the 101st medically ready and would continue to work with DHA to tie-up any loose ends across all his Forces.
"We'll lead through it, and this team will lead through it, and we'll continue to have exceptional health care for our Soldiers and our families," said Garrett.