Clarksville, TN – Motorists in the City of Clarksville will notice a patriotic display of Old Glory adorning City Hall and several of the City's major thoroughfares just in time for Independence Day.
Over the past two weeks, the Clarksville Street Department has placed 184 flags to honor America and its service members, veterans and their families.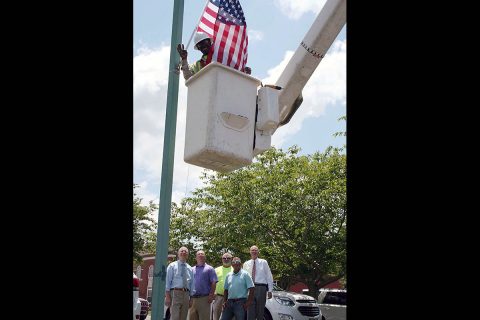 "Clarksville has been rated the Most Patriotic City in Tennessee, and this is another great way to show it," said Clarksville Mayor Joe Pitts. "This helps to beautify our City and honor our high percentage of residents who are serving and have served in the Armed Forces."
Flags are flying on light poles along the 101st Airborne Division Parkway, Riverside Drive, Madison Street, Interstate 24 exit ramps and in parking lots at Clarksville City Hall and the Clarksville Marina.
The roadside flags will fly for eight weeks each year, six weeks from before Memorial Day to after the Fourth of July and a week before and after Veterans Day.