Clarksville, TN – Sarah-Emily Woodward, former Austin Peay State University (APSU) cross-country and track and field runner, is returning home as an assistant coach, the first hire made by newly-minted Governors head coach Valerie Brown.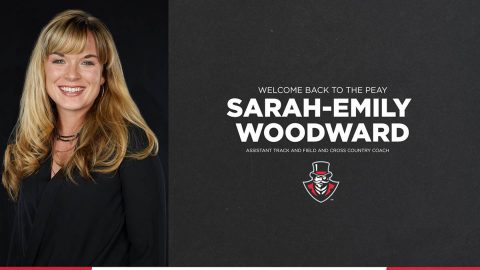 A four-year letter winner as a Gov, Woodward graduated in 2018 and spent last season on the coaching staff at Cameron University under head coach Zach Johnson.
She was not only the first graduate assistant in the program's history, she was charged with helping get the first-year women's cross country program and both men and women's track and field off the ground.
Woodward rose to the occasion, helping Cameron's women to a sixth-place finish in their first appearance in the 10-team Lone Star Conference Cross Country Championships. On the men's side, James Majenge won five meets, including the LSC individual title, under Woodward's tutelage and claimed Cameron's first-ever individual gold medal at the 2019 LSC Outdoor Track and Field Championships, winning the 1500m run.
During her time at Austin Peay State University, Woodward competed in multiple Ohio Valley Conference championships in both cross country and indoor and outdoor track and field. She also served as the secretary for APSU's Student-Athlete Advisory Committee. Now, she'll return home to guide the next generation of Austin Peay distance runners.
"We're pleased to welcome Sarah-Emily back to Austin Peay," Brown said. "She did a tremendous job at Cameron last year, and balanced helping build that program with a full course load in her Master's program. My goal was to find someone who was passionate in every aspect about developing our young men and women. I have no doubt she'll step in and be a huge presence on our coaching staff right away."