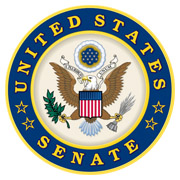 Washington, D.C. – On Wednesday, July 3rd, 2019, Senator Marsha Blackburn (R-Tenn.) joined Senator David Perdue (R-Ga.) and Senate Armed Services Committee Chairman Jim Inhofe (R-Okla.) to encourage Trump Administration officials to reach consensus with congressional leaders on a two-year budget deal to fully fund the military.
In a letter to Acting Office of Management and Budget (OMB) Director Russ Vought, Acting White House Chief of Staff Mick Mulvaney, and Treasury Secretary Steven Mnuchin, the senators caution that another continuing resolution (CR) would devastate the United States military, delay the implementation of the President's National Defense Strategy (NDS), and increase costs.
Senators Blackburn, Perdue and Inhofe are joined in sending the letter by Senators Bill Cassidy (R-La.), John Cornyn (R-Texas), Kevin Cramer (R-N.D.), Mike Crapo (R-Idaho), Joni Ernst (R-Iowa), Johnny Isakson (R-Ga.), James Lankford (R-Okla.), Jerry Moran (R-Kan.), Lisa Murkowski (R-Alaska), Pat Roberts (R-Kan.), Mike Rounds (R-S.D.), Thom Tillis (R-N.C.), and Roger Wicker (R-Miss.).
"The Administration's efforts last year to pass the Department of Defense (DOD) appropriations bill on time allowed our military for the first time in a decade to be properly funded without the use of a continuing resolution (CR). Given that success, we respectfully but strongly encourage you to work with us to avoid a CR for FY 2020 that would delay the implementation of the President's National Defense Strategy (NDS) and increase costs," write the senators.
The senators continue, "In nine of the last ten years, the Pentagon started the fiscal year under at least a three-month CR. However, it has never operated under a CR for a full year. While some members of the Administration have suggested a yearlong CR as a viable path forward, this must be avoided. Under these draconian conditions, the Department of Defense (DOD) would be incapable of increasing readiness, recapitalizing our force, or rationalizing funding to align with the National Defense Strategy (NDS)."
"As the world continues to become more dangerous, the American people rightfully expect their representatives in Washington to put aside political differences and do their jobs. Simply put, our adversaries do not handcuff their militaries with funding gimmicks like continuing resolutions — nor should we," the letter concludes.
Click here for full text of the letter.
Sections
Politics
Topics
DoD, Marsha Blackburn, U.S. Department of Defense, U.S. Military, U.S. Senator, Washington D.C.