Clarksville, TN – Clarksville Police will hold "Kona Cones with a Cop" on Wednesday, July 10th, 2019.
With the weather being hot, it's a perfect opportunity to join the Kona Ice folks and the Clarksville Police Department for some Kona Cones and conversation with a cop.
Oftentimes, the majority of contact between the public and law enforcement are during emergencies or very emotional situations, which do not provide a good opportunity for relationship building.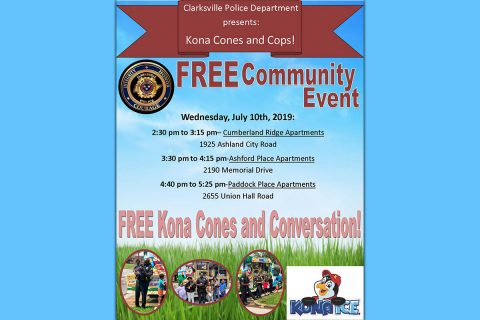 "Kona Cones with a Cop" will provide a way for community members and officers to engage in casual conversations and get to know each other.
It removes the barrier of the "badge" and "radio" and allows citizens to meet the officer as an individual and get a better, more personal feel for the officer who serves and lives in their community.
The event will be July 10th at three different locations and times.
Event Locations
2:30pm to 3:15pm – Cumberland Ridge Apartments located at 1925 Ashland City Road
3:30pm to 4:15pm – Ashford Place Apartments located at 2190 Memorial Drive
4:40pm to 5:25pm – Paddock Place Apartments located at 2655 Union Hall Road
CPD looks forward to seeing you.