Clarksville, TN – On Monday, July 8th, 2019, Austin Peay State University (APSU) baseball head coach Travis Janssen announced Grayson Crawford, who served as a volunteer assistant last season, has been hired as the Governors pitching coach.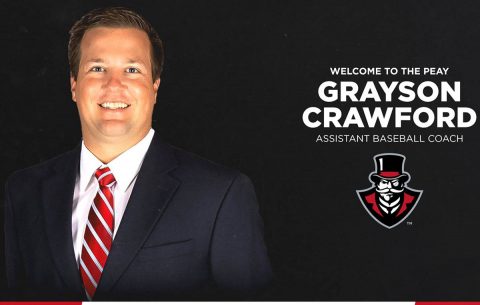 Crawford worked with the Governors pitchers last season, taking over as interim pitching coach for the final 43 games.
The Govs staff set a program-record with 556 strikeouts and averaged a program-record 9.92 strikeouts per nine innings.
In addition, Austin Peay pitchers held opponents to a .268 batting average, the lowest such mark since 2015.
"I'm pleased to add Grayson as our pitching coach," Janssen said. "Grayson showed his ability to manage a pitching staff last season and led our group to an impressive season."
"Along with his abilities as a pitching coach, Grayson is a tireless recruiter which will greatly benefit our program. He has proven he is a quality coach and recruiter and most importantly a first-class person and a great role model for our players. We couldn't be more excited to add Grayson, his wife Lee and his children Ava Gray and Evan to our family," stated Janssen.
"Lee, Ava Gray, Evan and I are excited to be able to continue to be a part of Austin Peay baseball," said Crawford. "I appreciate the trust Travis has shown in allowing me to lead our pitching staff and coordinate our recruiting efforts. We couldn't be more excited to be Govs."
Crawford joined the Governors after spending the 2018 season at Louisiana-Monroe where he was the pitching coach and recruiting coordinator. His time at Monroe followed two seasons as an assistant coach at Murray State – first as a volunteer assistant before being promoted to the Racers full-time pitching coach and recruiting coordinator.
In addition to his time at ULM and Murray State, Crawford has coached the Hopkinsville Hoppers of the Ohio Valley League – a collegiate summer league. In a previous stint with the Hoppers he led the program to the 2012 OVL championship and runner-up finishes in both 2013 and 2014.
Crawford's area ties also include two years as head coach at Christian County High School where he posted a 47-35 record and led the Colonels to consecutive Region 2 championship game appearances.
He then took over the Lindsey Wilson program for the 2014-15 season, leading the Blue Raiders to their first NAIA World Series appearance and a program-best No. 10 national ranking.
A 2010 graduate of Stillman College, Crawford began his playing career at Southern Arkansas before joining his father, Donny Crawford, at Stillman where he was a catcher for three seasons. He began his coaching career in 2010 as an assistant at Stillman.